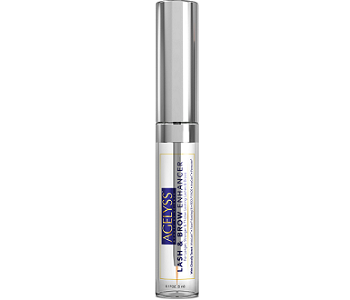 User Ratings (

0

Votes)

0
This review is for a product called Agelyss Lash & Brow Enhancer. According to the manufacturer, this eyebrow serum will enhance your natural eyebrows. This product contains a variety of ingredients that nourish the hair follicle, helping your eyelashes grow and appear healthier. The company that produced this product claims that continued use of their product will protect your eyelashes from breaking while also improving their flexibility and strength. Finally, this product will provide your lashes with more hydration than ever before.
Read our review to learn more about this wonderful product and whether or not this is the serum that will give you the Longer Lashes and Brows that you have been dreaming of. Here we will take a critical look at the ingredients included in this formula and what they can do for your eyelashes and eyebrows. Next, we will discuss how you should use this product and if there are any side effects associated with this Lash and Brow Enhancer. We will also give you a clear indication of the cost of this product, where you can buy it and the guarantees you receive. Finally, we will provide you with our expert opinion regarding this Lash and Brow Enhancer.
Ingredients
When we first examined this Lash and Brow Enhancer we were astounded by the excellent quality of all of the ingredients. Not only have all of the ingredients been scientifically researched but they are patented as well. Additionally, all of the ingredients that were included in this formula are produced in a facility that has been FDA approved and cGMP certified.
We were also impressed to learn that there are five active ingredients that have been included in this formula. The first of these active ingredients that we will discuss is called WideLash. This ingredient acts as lash and brow conditioner. Derived from tripeptides, this ingredient will help keratinocytes to enter the hair follicles. This allows your lashes and brows to grow stronger and healthier. As a result, when you use a product that contains this compound you will notice that your eyelashes become longer and fuller and they will be far less likely to sustain damage and fall out.
Another excellent active ingredient that forms an essential part of this formula is Fision KeraVeg 18. This is a substitute for keratin that is derived from plant sources. Fision KeraVeg 18 imitates natural keratin in the body that promotes the health of your hair. When used consistently, you will notice that this ingredient allows your eyebrows and eyelashes to become naturally hydrated making them look shiny and luscious.
Additionally, this product contains Regu-Fade, a trans-resveratrol that boosts collagen synthesis in your skin and hair follicles. When the production of collagen in your skin is supplemented you will notice that the skin around your eyes appears brighter and your lashes and brows will be healthier and more moisturized than ever before. Additionally, this ingredient acts as an antioxidant which will help to reduce some of the damage that has been done to your hair follicles from consistent exposure to harmful environmental factors.
We were also rather impressed to learn that this product contains an ingredient called AnaGain. This is a compound that is made from organic pea sprouts and it provides countless benefits to your hair follicles. AnaGain helps your body to send a message to your hair follicles that reactivate the signals responsible for hair growth. As a result, your lashes and brows will grow at an accelerated rate while you experience less hair loss.
Finally, this product contains Pentavitin, which is an ingredient that provides deep, intense hydration to your hair follicles. This will help you achieve the perfect dewy lash look without having to use any additional products or cosmetics. An additional benefit that is associated with the use of this ingredient is that it improves your skins ability to act as a barrier this will help to protect your skin from harmful toxins in the environment.
Dosage
This product comes packaged in a convenient to use one-ounce bottle with a precision application brush. The manufacturers of this product recommend that you apply the serum to your eyelashes with the brush they provide. They also recommend that you cleanse your face before using this product. You should apply a few quick strokes to your lashes in the morning and in the evening. You should apply this serum directly above the lash line.
It is perfectly acceptable to only use this product twice daily. However, if you want dramatic results the manufacturer recommends that you reapply this serum to your lashes frequently throughout the day. Additionally, we would recommend that you use this product in conjunction with a high-quality eye cream to provide your skin with the maximum results.
Price
Trial Pack – $49.00 per bottle
3 Pack Deal – $33.00 per bottle
6 Pack Deal – $24.00 per bottle
If you are interested in buying this product you can head straight over to the manufacturer's online store. Additionally, you may even be able to find this product on a wide variety of third-party sellers stores. This is great news as it means that this product is readily available and you will not struggle to buy this serum for yourself.
If you want to try out the product, the manufacturer provides an excellent trial pack that contains one bottle of this serum. The trial pack retails for $49.00, which is really rather affordable.
However, our research seems to indicate that you could save a significant amount of money if you buy in bulk from this manufacturer. The three pack deal offers you one bottle for the price of $33.00. The greatest savings are offered in the manufacturers six pack deal. If you choose this offer you will only be paying $24.00 per bottle of this excellent product.
Finally, we were rather pleased to discover that the manufacturer of this product has excellent shipping policies in place for all of their customers. If you place an order from this manufacturer for $79.00 or more they will ship your order to you free of charge. After looking at several Lash and Brow Enhancer Reviews we found that this is a policy that is not commonly found.
Guarantee & Feedback
The manufacturers of this product offer a 100% money back guarantee that is valid for 365 days after the original purchase date. if you are at all unsatisfied with the quality of your purchase you can return it to the manufacturer for a full refund. Additionally, we were impressed to learn that the manufacturer of this serum will even accept returns on products that have already been opened. We believe that this is one of the best guarantees available when compared to similar products.
We were also impressed to discover that a large percentage of the customer reviews that we could find were highly positive. It seems that the majority of people who have purchased this product were impressed with it. Most people who have bought this product report noticing a significant improvement in the condition or their lashes and brows after having used this serum for a few weeks. The report that not only are their hair follicles more hydrated than ever before but they experience less hair loss than ever before.
Our Conclusive Review About Agelyss Lash & Brow Enhancer
When we concluded our review we found that Agelyss Lash & Brow Enhancer was one of the best products available for individuals who wish to improve the appearance of their lashes and brows. The people who have tried this product claim that not only are their lashes and brows fuller but their skin appears more hydrated and their hair grows at an increased rate and the new growth is stronger, healthier, and more hydrated than ever before.
The wide range of positive Lash and Brow Enhancer Reviews that this product received was rather impressive. Customers who have used this product not only noticed an improvement in their brows and lashes but were blown away by the quality of this product. The customers who left reviews for this product claim that it is gentle on their skin while providing all of the promised benefits and more.
Additionally, when you purchase this product you receive an excellent guarantee that is valid for a full 365 days after the original purchase date.  If you are not satisfied with this product the manufacturer will provide you with a full refund. We were also rather impressed to discover that the manufacturer of this product will even accept returns on products that have already been opened.
Finally, we were incredibly impressed by the fact that this product contains five excellent active ingredients that are scientifically researched and patented. These five high-quality key ingredients are WideLash, Fision KeraVeg 18, Regu-Fade, AnaGain, and Pentavitin. Together these ingredients improve the condition of your lashes and brows to help them grow faster, stronger, and healthier. Additionally, this product is produced in an FDA approved, cGMP registered facility.
Bringing you top reviews and product analysis - Consumer Advisors.