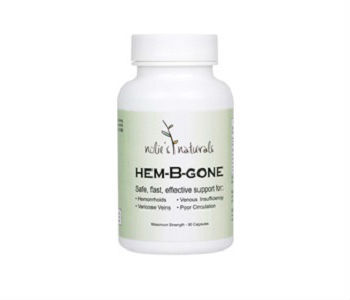 User Ratings (

0

Votes)

0
Dressed in a plain white wrapper, Hem-B-Gone is easy to miss, but it's extravagant claims of relief are not.   Offering 100% relief within 1-2 days, this hemorrhoid relief assert that modern science combined with centuries-old herbal healing techniques accounts for the difference.
Hem-B-Gone suggests that the relief it offers is 'as good as surgery' without, of course, the attendant surgical price tag.   It's easy to fall for this hype when you are sincerely and seriously suffering true hemorrhoid paid and misery.  Yet, there are no credible reviews to support the product claims; all you get is the Hem-B-Gone Nolies Natural website testimonial review.  Who knows whether that is real or not?  Do you want to take the risk while in your agitated state?
Ingredients
Hem-B-Gone is no different than much of its competition for hemorrhoid relief, listing only some of its included ingredients:
Witch Hazel (leaf and bark) Extract (Standardized to 15% Tannins)
Horse Chestnut (seed) Extract (Standardized to 20% Aescin)
Ginger (root) Extract 8:1
Bilberry (fruit) Extract 4:1
Oat Straw (as Avena Sativa) Extract 10:1
Dosage
The recommended dosage is 2-3 capsules, taken 3 times daily until symptoms are gone.
 Published side-effects can include:
Nausea
Vomiting
Stomach pains
Itching
Gas
Bloating
High doses of ginger could lead to worsened heart conditions, lowered blood sugar, and increased risk of bleeding. While Bilberry is generally considered safe in most cases, high enough doses or extended use of the extract could cause possible toxic side effects. Horse chestnut is known to lower blood sugar levels, and  must not be taken with certain diabetic medications.  If you have diabetes, then you must check your blood sugar level regularly when taking this medication and should absolutely consult with a medical professional before taking a dose of Hem-B-Gone.
Price
One 90-capsule bottle of Hem-B-Gone is $42.64.  If you prefer larger quantities, purchase two bottles at $76.75, or three for $127.92. As  hemorrhoid prevention requires long-term care, the larger quantity may be advisable and becomes quite expensive.
Guarantee
A 90-day money-back guarantee is offered:  If you don't obtain full relief from hemorrhoids or are simply unhappy with the results, you can return the opened bottle for a full refund, minus the shipping and handling costs.
Since this product claims immediate relief,  the 90 day period may seem  generous  but is actually standard practice in this particular industry, especially where long term care and maintenance of health long term habits makes a big difference in the outcome.
Conclusion Of Our Hem-B-Gone Review
Given the exorbitant price and the absence of independent customer reviews, it's difficult to say if Hem-B-Gone delivers as promised. Besides, it is not even FDA approved.
Bringing you top reviews and product analysis - Consumer Advisors.