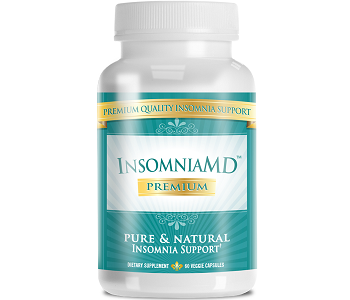 User Ratings (

0

Votes)

0
Sleep is an important part of a healthy and balanced lifestyle as well as a person's overall well being. Studies have shown that the average person needs approximately 8 hours of sleep each night in order to function properly. But what happens when you can't fall asleep? Insomnia is a condition that causes an individual to stay awake or make it difficult for them to fall asleep. This leads to a lack of restorative sleep. As can be expected, this will ultimately result in diminished levels of energy, irregular sleeping patterns and in some chronic cases affect people for nights on end. Although there are numerous chemical-based sleeping medications on the market, in our review we will be discussing InsomniaMD Premium. This natural supplement promises to assist the user with the symptoms of insomnia, by helping people fall asleep, improve tiredness and general health.
Ingredients
InsomniaMD is made from a mix of ingredients that have been extensively researched. Containing pure forms of its 11, all natural compounds (predominantly derived from plant-based sources) this supplement is free from additives and preservatives. It is also vegan-friendly and complies with industry regulations and standards. The ingredients that make up this product boast sedative and calming properties that help the user fight their anxiety, stress and other symptoms of insomnia. These include;  Chamomile, L-Ornithine, Valerian, Passionflower Extract,  Jujube Seed Extract, Hops Flower, Taurine, Magnolia Bark, Lemon Balm Extract, Melatonin and Reishi Mushrooms
Dosage
The product label suggests that you should take InsomniaMD as one dose of two capsules in the evenings. To get the most out of this product, take this dietary supplement consistently over a period of time.
Price
If you would like to buy InsomniaMD Premium, you can purchase it online from the manufacturer's website. This supplement is packaged as 60 capsules (one month's supply) and is available in several packages.
Save $20 – Sampler's Package $48
Save $113 – Beginner's Package $91
Save $160 – Moderate Package  $112
Save $270 – Best Selling Package $138
Guarantee & Feedback
In this review of InsomniaMD, we found that the manufacturer was confident in the ability and potency of their product. We established that, as the customer, you are offered a 90 day, 100% satisfaction money back guarantee – during which time you can return this supplement if you are not happy with how it is working for you. This creates an opportunity for the user to try this natural sleeping aid, without much financial risk.
Our Conclusive Review About Premium Certified InsomniaMD Premium
Insomnia is a serious condition that can negatively affect your day to day life. This is why it is good to know that there are natural alternatives to the chemical sleeping medication on the market. Our review of InsomniaMD determined that this product is a leader in its category due to the wholesome list of effective ingredients it is made up of. As well as the pure forms in which they have been added. To top this off, we also recognize that this insomnia supplement is available at various pricing packages, making it more viable for the end user. For these reasons, InsomniaMD stands out as a great choice for those suffering from sleep-related conditions.
Bringing you top reviews and product analysis - Consumer Advisors.