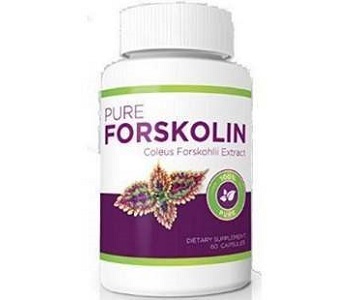 User Ratings (

0

Votes)

0
Losing weight and meeting your weight loss goals requires commitment and hard work in order to achieve real results. However, even the most diligent and committed can find that sometimes diet and exercise are not enough and they are left in need of a product that can offer them an extra weight loss boost. The world of weight loss supplements can be confusing and hard to navigate. There are many products that promise big results but fall flat or are full of harmful and toxic ingredients. For this reason, we find it necessary to research weight loss dietary supplements in order to determine the product's integrity. This review is going to take a closer look at Vitality Max Labs 100% Pure Forskolin. This product is a dietary weight loss supplement that comes in capsule form. Forskolin is derived from a root plant and is believed to aid in weight loss by raising your metabolic levels which speeds up the burning of fat cells.
Ingredients
The only ingredient in this supplement is 125 mg of Forskolin per serving. Forskolin is extracted from the root of a plant that comes from the mint family.  It is believed to activate an enzyme called adenylate cyclase that can increase your levels of cAMP. This is believed to cause the thyroid hormones to raise your metabolic level which will burn fat cells quickly.
Dosage
The manufacturer recommends taking one capsule twice daily. For optimal results, they recommend that you take it 20-30 minutes before a meal with an 8 oz glass of water or as otherwise instructed by your physician.
If you are pregnant, nursing or under medical supervision, you should consult with your doctor before taking this supplement.
Possible Side Effects
Vitality Max Labs does not list any possible side effects. Through our research, we found that side effects associated with taking high dosages of Forskolin include hypotension, dizziness, blurred vision, nausea, diminished concentration, pale skin fatigue and loss of consciousness.
Price
You can purchase this Forskolin supplement on the manufacturer's website for $28.99 for a 60 capsule bottle. They do not offer any bulk purchasing packages or discounts.
Guarantee & Feedback
Vitality Max Labs offers a 30-day money-back guarantee but does not stipulate any terms or conditions. The feedback we found from consumers who had tried this supplement as recommended by the manufacturer and over an extended amount of time is that this product does not work. Many users claimed that they saw no difference in their weight and others reported that they experienced adverse side effects that stopped once they stopped taking this supplement.
Our Conclusive Review About Vitality Max Labs Forskolin
This dietary supplement appears to be decent. It contains a good dosage of Forskolin per capsule and the manufacturer has a 30-day guarantee. However, the guarantee is weak and Vitality Max Labs does not stipulate the terms and conditions of their guarantee. We strongly advise that you contact their customer service to inquire about their up to date return policy should you choose to move forward with this product. Furthermore, the consumer reviews we saw about this supplement are mostly negative. Consumers claimed that this product appears to be farcical and some reported that they experienced severe adverse side effects that immediately stopped once they stopped taking this supplement.
Bringing you top reviews and product analysis - Consumer Advisors.