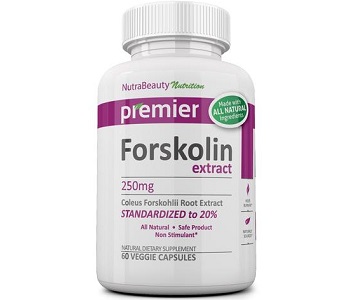 User Ratings (

0

Votes)

0
Today we review Nutra Beauty Nutrition Forskolin Extract.  This root extract has been shown to help break down stored fat to help you reach your weight loss goals.  Not only does this supplement contain the optimal dose of forskolin extract, it is also in a vegetarian capsule and is free of wheat, eggs, peanuts, dairy, and most other allergens.
Ingredients
Each capsule contains 250 mg of 20% forskolin extract.  This is right along the suggested amount for optimal weight loss.  These capsules are also made with vegetarian cellulose and made in a factory that does not produce anything with most allergens, making these capsules extremely safe for anyone to take.
Dosage
The recommended daily dose for this product is to take one capsule, twice per day.  Each dose should be taken 20-30 minutes before eating a meal and accompanied by at least 8 ounces of water, unless directed otherwise by a healthcare professional.  The optimal daily dose of forskolin extract is 500 mg per day, which by taking two of these capsules, you will reach that goal.
Price
The pricing of this product on the manufacturer's website was slightly weird to us.  They did not show the manufacturer's suggested retail price, but instead showed the amount of savings you get by buying different amounts of the supplement.  One bottle of 60 capsules costs $9.95, which they claim gives you a $20 savings. Purchasing two bottles together, which claims to save you $35 actually costs $24.95, which is more than buying two 60 count bottles separately.  The best deal we were able to find is by purchasing 4 bottles at a time, which costs $36.95.
Guarantee & Feedback
While the manufacturer claims to stand behind their products 100%, their website says something else.  They have no information regarding a money back guarantee or return policy whatsoever. In addition, when we clicked on their Contact Us page, they had no contact information, but instead just stated how the charge will show up on your credit card statement.  This shows that not only will they not accept returns or refund your money, but they are extremely difficult to contact if you have any questions about their products.
Additionally, this product has no reviews listed.  When we researched this product on third party sites, we were unable to even find the product to check reviews there.  This is concerning to us, because customer reviews of a product like this are extremely important to be able to check a supplement's effectiveness and see if there are any unexpected side effects to be aware of.
Our Conclusive Review About Nutra Beauty Nutrition Forskolin Extract
There are a few things we liked about Nutra Beauty Nutrition Forskolin Extract.  This supplement does contain the best dose of forskolin extract to see the highest weight loss.  Also, free of almost all allergens and with a vegetarian capsule, this supplement is safe for most people to take.
Unfortunately, this product raised many red flags.  First of all, the pricing on the website was weird, in that the manufacturer claimed buying more bottles would save you money, but in reality, buying two bottles together cost more than buying one bottle twice.  The biggest concern for us was the lack of information on the manufacturer's website. There was no mention anywhere of a money back guarantee or a refund policy. Also, they did not list any type of contact information, should you have questions regarding any of their products.  Lastly, there are no customer reviews available. For these reasons, we cannot recommend this supplement to help you lose weight.
Bringing you top reviews and product analysis - Consumer Advisors.