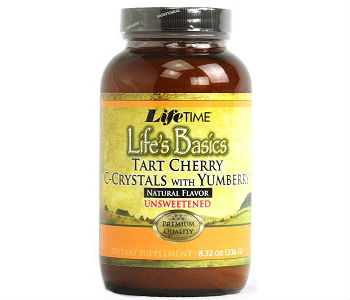 User Ratings (

0

Votes)

0
This supplement from Lifetime contains a powerhouse list of ingredients that are rich in antioxidants, which are claimed to be beneficial in gout treatment. They will be instrumental in providing the cells with the protection it needs against free radicals, and therefore, being able to prevent being damaged. These antioxidants will not be only ideal for treating gout, but also for avoiding cancer and delaying the visible signs of aging, among others. In terms of gout, the antioxidants that are abundant in this product reduces the uric acid level in the body as its high level will be a precursor of gout. This provides accumulation and crystallization in the joints and other parts of the body.
Ingredients
Vitamin C: In this supplement, the Vitamin C that is used is in the form of ascorbic acid. It decreases the level of pH in the blood, which allows the body to get rid of the impurities through urine.
Concentrates of Tart Cherry: For thousands of years, even in the field of alternative medicine, cherries are often used for the treatment of gout. Several researches in the past have proven that it is abundant with anthocyanin and flavonoids, which aid in the protection of the cells and in regulating the amount of uric acid present in the body.
Yumberry: Considered as a super-food, this ingredient rich in antioxidants and anthocyanin. Aside from the protection against aging, it can help to keep your uric acid level low to prevent suffering from various symptoms of gout.
Lemon Bioflavonoids: As it is also abundant with antioxidants, this is another ingredient that helps in controlling uric acid. More so, it also keeps the kidneys and liver in their best state of health.
Other Ingredients: Aside from those that have been mentioned, this supplement also contains cane sugar in evaporated form and leaf extracts of stevia.
Dosage
As recommended by the manufacturer, 2 teaspoons should be mixed with liquid, which can be plain water or fruit juices, among other beverages.
Price
The listed per bottle price of the product is $20.79. The website of the manufacturer, however, offers it for only $10.99 per bottle. The price does not yet include a shipping fee of $5.95. One bottle is good for 40 days, which means that the monthly cost of taking the supplement will be $8.24.
Guarantee
The manufacturer offers 30-day satisfaction guarantee, provided that 25% of its content is not yet consumed. They will refund the total cost of the product but excluding amount paid for shipping.
Conclusion Of Our Lifetime Life's Basics Tart Cherry C-Crystals with Yumberry Review
In sum, since this supplement contains extracts of tart cherry and yumberry, it is very promising in gout treatment. Aside from being made with the use of natural ingredients, it can also produce long-term result. It is also very affordable. However, for those who would opt for holistic health supplements, which means that it promises to not only lower uric acid, there are other excellent alternatives that might be worth checking out as well.
Bringing you top reviews and product analysis - Consumer Advisors.