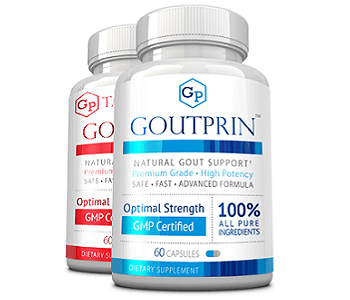 User Ratings (

0

Votes)

0
There are many gout products available in the market today, but one of the ones worth giving a review for is Goutprin. Goutprin is one of the best products for gout that we are going to review now because of the unique formula that it contains and the high quality standards that its manufacturer has. Goutprin claims that it can increase urination to reduce uric acid production and accumulation and it can provide immediate pain relief and decrease severity of attacks. It also claims to improve kidney and liver function to effectively flush out unwanted uric acid, decrease joint inflammation and boost antioxidant levels for increased mobility, as well as to supplement mineral and vitamin deficiencies that can trigger attacks. If you want to know the wonderful properties of Goutprin, read on.
Ingredients
Goutprin contains the following ingredients:
Tart Cherry– contains high levels of anthocyanins work to reduce uric acid level production and build up
Artichoke– Reduces inflammation and provides diuretic benefits to flush out uric acid.
Garlic– Increases glutathione levels and glutathione related enzymes to detoxify the body.
Yucca Root— provides anti-inflammatory & anti oxidant properties to reduce inflammation of the joints
Milk Thistle– Promotes healthy kidney and liver function to relieve toxic material from the body.
Turmeric— Inhibits synthesis of prostaglandins involved with pain releasing cortisone to combat pain
Dandelion— Promotes healthy liver function and stimulates urinary excretion of uric acid.
Rutin– Provides anti-inflammatory & antispasmodic elements to manage the hormonal balance
Folic Acid— Vitamin B9 (Folic Acid) neutralizes the enzyme responsible for uric acid production.
Dosage
Goutrin should be taken two capsules as day as a dietary supplement. For optimum results, you may take one capsule in the morning and one capsule in the afternoon
Price
Goutrin is priced differently depending on the number of bottles that you would like to buy. They currently have a limited time BUY 3 GET 3 FREE special promo. The Best Value Package  (BUY 3 + 3 TART CHERRY FREE) is priced at $24.00 /bottle ($144.00 Total). The Advanced Package (BUY 2 + 1 & 1 TART CHERRY FREE) is priced at $28.00 /bottle ($112.00 Total). The Most Popular Package (BUY 2 + GET 2 TART CHERRY FREE) is priced at $28.00 /bottle ($112.00 Total). The Most Popular Package (BUY 1 + 1 TART CHERRY) is priced at $36.00 /bottle ($72.00 Total). A single bottle of Goutprin is priced at $49.95 /bottle.
Guarantee
Goutprin comes with a 60-day. If you want to return the product, you can do so within 60 days and you can get your money back. Since there are very good customer reviews, it is less likely that you will return the products, especially if you have been suffering from gout for a long time now.
Conclusion Of Our Approved Science Goutprin Review
Goutprin one of the best gout products being sold on the market today. It contains a blend of effective ingredients such as tart cherry, turmeric (a good pain reliever) and the anti- inflammatory agents dandelion and yucca. It does not contain any additives, artificial ingredients and preservatives. It also comes with an amazing 60-day guarantee. To know more about Goutprin and what it can do for you, visit their official website.
Bringing you top reviews and product analysis - Consumer Advisors.