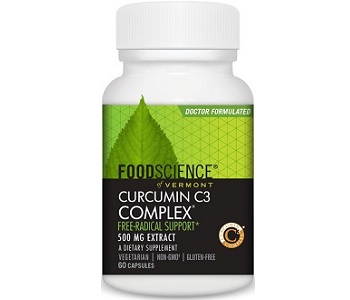 User Ratings (

0

Votes)

0
Today we review Food Science of Vermont Curcumin C3 Complex.  This herbal supplement is designed to help you improve the function of your liver and gallbladder.  With its detoxifying and free radical hunting abilities, this spice can help keep your body healthier.
Ingredients
Each capsule contains 475 mg of 95% curcumin extract.  While this is the correct yield amount, there is slightly less of the extract than in other supplements.  These capsules do, however, have BioPerine, which is essential to help your body absorb this nutrient. The main ingredients are help in a vegetarian friendly capsule, making this supplement easier for more people to use.
Dosage
The manufacturer suggests to take one capsule with breakfast and a second capsule with lunch. By taking two capsules daily, you will reach a per day amount of only 950 mg of curcumin.  Our research shows that 1,000 mg is the optimal dose for this extract.
Possible Side Effects
While the manufacturer did not list specific side effects associated with this product, there were many warnings listed.  First off, because this product comes from a natural spice, there could be color variation within the different capsules. Also, if you have gallstones or other gallbladder problems, you should consult with a physician before beginning this supplement.  Lastly, if you have any elective surgery planned, this supplement should be discontinued at least two weeks before the surgery date.
Price
This supplement is not available for sale directly from the manufacturer.  Instead, they send you to other third party sites to make your purchase. One third party seller we saw has this supplement on sale for $29.41.  If you subscribe to this seller's auto-shipment program, you can save an additional 5%. However, these auto-shipment programs save your credit card information and can be quite difficult to cancel, should you decide to stop your shipments.
Guarantee & Feedback
Food Science of Vermont states that they have a 100% money back guarantee that their listed third party sellers stand behind.  Should you be dissatisfied with your supplement, the company says you should be able to return it to your original seller for a full refund.
As far as feedback, there are no reviews available for this product as of yet.  This shows that either previous customers have been choosing not to review this product, or their reviews may have been negative and taken down from the company.
Our Conclusive Review About Food Science of Vermont Curcumin C3 Complex
There are a few positive points we saw with Food Science of Vermont Curcumin C3 Complex.  The curcumin extract they use is standardized to 95%. Also, the capsules are made to be vegetarian friendly.
Unfortunately, there were many negative attributes we found about this product.  The daily amount of curcumin from this supplement is less than the optimal daily dose.  Also, there are many warnings that go along with this product about when you can actually take these capsules.  Lastly, with no reviews, it is impossible to truly know how effective this supplement is. For these reasons, we cannot recommend this product.
Bringing you top reviews and product analysis - Consumer Advisors.