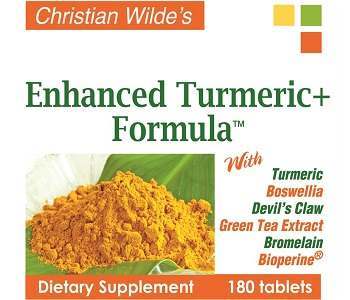 User Ratings (

0

Votes)

0
A lot has been said about the benefits of turmeric. Because of this, several products are sold on the market to capitalize on the benefits of this spice, including this product up for review. Turmeric is known for its immune boosting properties as well as it acting as a great anti-inflammatory.
Check out our Christian Wilde Enhanced Turmeric+ Formula review to find out if this is the right turmeric supplement for you.
Ingredients
1,000 mg turmeric – a combination of 650 mg turmeric powder and 350 mg curcumin
Green tea extract – 60 mg
Bromelain – 40 mg
Bioperine – 10 mg
Boswellia Serrata Gum – 90 mg
Ginger root powder – 15 mg
Devil's claw – 40 mg
The ingredients of this supplement are natural ingredients to help exemplify the effects of turmeric in your body. The Bioperine black pepper extract helps the body absorb the benefits of these ingredients.
Dosage
It is recommended to take two capsules of Christian Wilde's Enhanced Turmeric+ Formula once a day. If you are having a hard time swallowing the pill, you can crush two tablets and either eat it in crushed form or mix with a cup of warm water.
Possible Side Effects
A product made of natural ingredients does not guarantee zero side effects. According to the reviews, some users experienced stomach pain and itchiness.
It is important to pay attention to your body's reaction as soon as you start taking this product. If you notice adverse reactions, discontinue use immediately.
Price
A bottle of Christian Wilde's Enhanced Turmeric+ Formula costs $35.95 from Amazon, sold by the manufacturer. It contains 180 capsules, which is good for 90 days. Unfortunately, the manufacturer doesn't offer any discounts.
Guarantee & Feedback
It seems that this product does come with a money-back guarantee, however, there is limited information available on how to avail this guarantee. There is no indication how many days you have to return the product or the condition of the bottles to make it eligible for the guarantee.
Reviews for this product is also divided. Some say that this turmeric supplement worked for them while there are others who said it did nothing and even led to side effects.
Our Conclusive Review About Christian Wilde Enhanced Turmeric+ Formula
One of the commendable traits of this product is its affordable price. For less than $50, you get a product that is good for 90 days already. This means your cost of supply every month for this turmeric supplement is $11.98 only. The product is also prepared in a government-compliant GMP facility, which is also a good thing.
Nonetheless, there are few areas of concern:
The lack of information on the website specifically dedicated to the product. As such, there is limited information available to better describe and prove the effectiveness of the product.
The guarantee is questionable. Yes, it provides a 100% money back guarantee, but the guarantee is not clear.
The ingredient, "devil's claw" is questionable. It is safe for short-term use, but when taken long-term, this ingredient could cause stomach problems. This should also not be taken together with diabetes or blood thinning medications to avoid adverse reactions.
Bringing you top reviews and product analysis - Consumer Advisors.