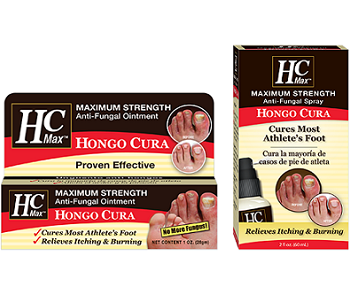 User Ratings (

0

Votes)

0
In this review, we will be examining a product called Hongo Cura Anti-Fungal. Similarly, to ringworm, athlete's foot is a fungal infection that is localized in the feet. It is most commonly found on the delicate skin in between the toes. According to the manufacturer, their product will provide you with significant relief from these uncomfortable symptoms. They also claim that continued use of this specially formulated cream will stop infections before they become serious and help to prevent it from spreading further.
Ingredients
Our research indicates that this anti-fungal cream has Zinc undecenoate and Undecenoic acid as its main active ingredients. There are, however, a few additional ingredients included in the formula. These are Methylparabens, Propylparabens and White Petroleum, which are mainly known for their use as fillers and binders. In theory, this is a good collection of ingredients but we are slightly concerned by the fact that this product does not contain a high enough concentration of the active ingredients. Products that contain a lower concentration of anti-fungal ingredients have been proven less effective at treating these conditions.
Dosage
The manufacturers of this product recommend that you wash your feet with soap and water before using this cream on the affected area. They say you should thoroughly dry your feet before applying the cream. For optimal results, they recommend that you apply the cream to your feet twice daily for four weeks. They also state that you should pay special attention to the skin between your toes when you apply the formula to your skin.
Price
Sadly, this product is not available directly from the manufacturer. Their website provides a comprehensive list of pharmacies that stock their product. However, they do not have any further product information available to the public. This means that we are unable to give you an indication of how much this product costs.
Guarantee & Feedback
We could not find any information regarding guarantees on the manufacturer's website. This is quite concerning as most customers feel reassured about the quality of the product they are receiving if they know that they are guaranteed on their purchase. We were also quite concerned that we were unable to find any return or refund policies on the manufacturer's website. Sadly, there are no reviews available for this product so we are not sure if the people who have tried it would recommend this product to anyone.
Our Conclusive Review About HC Max Hongo Cura Anti-Fungal
Once we completed our review of Hongo Cura Anti-Fungal, we found that it is an acceptable product that relieves the painful and uncomfortable symptoms associated with fungal infections on the feet. This product contains active ingredients that help to eradicate infection and that helps to reduce the inflammation associated with the infection. However, we uncovered quite a few things that we found concerning during our research. This product does not contain a satisfactory concentration of the active ingredients. There are no customer reviews available on the manufacturer's website and you cannot buy this product online. Not only is this highly inconvenient but it also makes it difficult to get.
Bringing you top reviews and product analysis - Consumer Advisors.