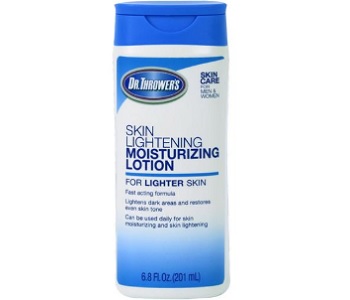 Quality of Ingredient

7.5

User Ratings (

0

Votes)

0
The following review focuses on the skin-care product Skin Lightening Moisturizing Lotion. This is a Dr Thrower's skin product formulated to soften and moisturize the skin. The product claims to fade dark patches such as liver spots and freckles on the face. Keep on reading this review for more about this skin lightening product.
Ingredients
Hydroquinone – 2%
Argan oil
Sonne natural vegetable oil
Tea tree oil
Shea butter
Cocoa butter
Hyaluronic acid
This formula contains both natural and pharmaceutical ingredients. However, there is only one active ingredient (affording only 2% of the product). Truly effective products must have at least 10% active ingredients. In addition, hydroquinone is a pharmaceutical ingredient focusing on cells that produce melanin. However, hydroquinone is banned in many countries, as it is linked to skin irritations and even to cancer. This substance can be even worse if the consumer uses it more frequently than instructed and the results can be to their detriment.
How To Use
The instructions on how to apply this product are straightforward. A thin layer should be applied on the affected area twice daily, mornings and evenings. This should be left on overnight.
Price
This product is available directly from the manufacturer online, on their E-commerce site at $30.77. The only discount is offered if subscribed to the product. The customer will then receive a 10% discount, and pay $27.69. However, the customer will be locked into such a program, which is notoriously difficult to cancel. Either way, the company offers no other discounts nor package deals that would have saved the customer money in the long run. More so, by providing an ongoing discount would mean that the manufacturer of this product would reward their loyal clients.
Guarantee & Feedback
There is only a seven-day refund period offered for this product. Items must be unused and in their original packaging. The consumer cannot, therefore, test the product for fear of losing the opportunity to return the product for a refund. There are only a few reviews, although mostly positive.
Our Conclusive Review About Dr Thrower's Skin Lightening Moisturizing Lotion
Skin Lightening Moisturizing Lotion appears a worthwhile product. User instructions are straightforward. The product contains an active ingredient known to be effective in lightening dark marks. On the downside, there are certain concerns with the product. First, the active ingredient could lead to cancer. Second, the product is only available with a discount if the consumer is willing to subscribe to this product. Such programs are difficult to cancel. Third, this is not an all-natural product which would make it not only safer to use, but kinder on the skin. Last, there is no solid guarantee allowing the consumer to test the product. This is also of concern. As such, and especially with so many similar products on the market offering better quality ingredients that are patented and clinically proven to be effective, more so, are backed by solid guarantees, and comes in attractive package deals with worthwhile discounts, this product struggles to compare.
Bringing you top reviews and product analysis - Consumer Advisors.