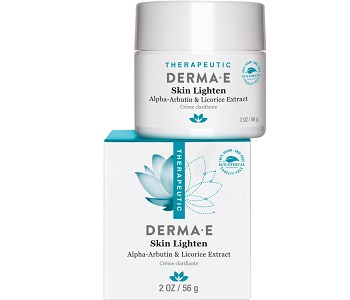 Quality of Ingredient

7.5

User Ratings (

0

Votes)

0
This review focuses on the skin-care product Skin Lighten, manufactured by Derma E. This product claims to even skin with uneven pigmentation or dark marks and liver spots. The product claims to reduce skin pigmentation, restoring even tone to the skin and increasing radiance. This product purports to hydrate and nourishes the skin, improving skin condition, keeping it healthier and younger looking. Keep reading this review for more about this skin-care product.
Ingredients
Licorice root extract
Zinc oxide
Alpha-arbutin
Vitamin C
Vitamin E
Vitamin A
Panax ginseng root extract
Vitamin C (an antioxidant) restores skin-cell health, minimizing the appearance of wrinkles and fine lines. The action of Vitamin C is enhanced by the addition of vitamin E. These ingredients help to nourish and hydrate the skin. Ingredients reduce the amount of pigment manufactured by the skin. However, the manufacturer fails to identify the active ingredients in this formula. Active ingredients should make up at least 10% of the overall ingredients, but this cannot be confirmed in this skin-care product. The product is vegan-friendly and is cruelty-free, paraben-free, sulfate-free, mineral oil-free, lanolin-free, gluten-free, as well as GMO-free.
How To Use
The instructions on how to use this product are not fully succinct. The manufacturer does state that a small amount of this product should be applied with the fingertips to the affected areas. This product may be used on any part of the body: it may be used under make-up. However, it is not stated whether the skin must be cleaned beforehand, or the best time of day to apply the product: evenings, mornings, or twice a day.
Price
This skin-care product is available online, directly from the manufacturer at $24.95. On a subscription customers can save 10%, paying $22.95. However, such programs are difficult to cancel, the credit card being deducted on a regular basis.
Guarantee & Feedback
The manufacturer offers a 30-day money-back satisfaction guarantee on this product. A customer may return the product for any reason. Feedback, however, could be used to improve the product. There are a moderate number of reviews on this product.
Our Conclusive Review About Derma E Skin Lighten
The skin-care product Skin Lighten appears at first glance to be interesting. It comes with a money-back guarantee that protects the consumer. If the product is not effective, customers may return it for a refund. In addition, this product contains both vitamins C and E, known as effective in nourishing and hydrating the skin. However, user instructions are unclear. Worse, the product's discount is only applicable if the consumer becomes a subscriber. Such programs are notoriously difficult to cancel, the customer's credit card being deducted on a regular basis. More so, the company offers no other discounts, nor any package deals that would have saved the consumer money over the long term. As such, and more so with so many other similar products on the market currently offering better quality ingredients that are proven to be effective and firm guarantees that protect the consumer, this product just does not match the standard.
Bringing you top reviews and product analysis - Consumer Advisors.