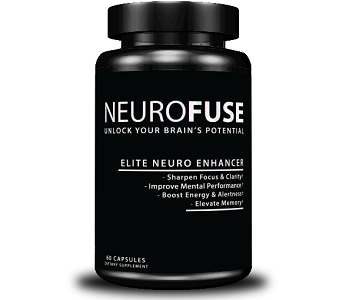 User Ratings (

0

Votes)

0
Today we review Neurofuse. Neurofuse is a natural supplement claiming to maximize your cognitive abilities and boost your overall brain health. Neurofuse also helps with aiding memory and sharpening your focus. Neurofuse lifts energy levels and fights fatigue whilst also claiming to reduce stress and overall feelings of well-being. Neurofuse contains 12 natural ingredients that together claim to improve your health ranging in cognitive to metabolic support. To better understand this product, read our review below.
Ingredients
The primary Ingredients consist of:
Bacopa Monnieri
Caffeine
L-Theanine
Phosphatidylserine
Choline Bitartrate
Vitamin B6
Huperzine A
Vitamin D3
Alpha Lipoic Acid
Vitamin B12
The secondary Ingredients consist of:
Brown Rice Flour
Magnesium Stearate
Titanium Dioxide
Gelatin
These ingredients claim to boost overall mental performance and are thought to aid overall health. Bacopa Monnieri increases cognition and memory formation. Rhodiola Rosea is a herb that combats fatigue and relieves stress.  Caffeine and L-Theanine work very well together with caffeine providing physical energy and L-Theanine promotes relaxation with inducing sleepiness. Phosphatidylserine improves cognition and Choline Bitartrate helps the brain to learn. Vitamin B6 helps to manage Alzheimer's and ADHD. Huperzine A and vitamin D3 support improved mood and cognition. Alpha Lipoic Acid is a strong antioxidant and vitamin B12 helps to boost energy.
Dosage
To help boost mental performance, one should begin by taking only 1-2 capsules per day with food. You may increase this serving to 3-4 capsules a day but do not exceed 6 capsules per day. It is unclear if one should take all of the capsules in 1 serving or take some of them in the morning and some of them at night.
Possible Side Effects
No listed side effects associated with Neurofuse are listed on the manufacturer's website. However, they do not recommend pregnant women or individuals under 18 to use Neurofuse.
Price
Neurofuse has a very straightforward payment method. You have to pay a shipping fee of $4.99 for a free bottle of 10 Neurofuse supplements. You then get 14 days as a trial period to try out the product and see if you like it. If you don't want the product, you have to cancel your subscription in those 14 days. If you do not cancel your subscription your credit card will be automatically charged $69.99 for your first month's supply of Neurofuse. To cancel any future shipments you must call their toll free number as you cannot unsubscribe via email.  You must also remember to unsubscribe at least 2 days prior to shipment of your product.
Guarantee
Neurofuse will refund your shipping and handling of your 14-day trial supplements if you are unsatisfied. They will also refund your additional monthly supplements if they receive your return within 30 days of purchase. You will not be reimbursed for shipping or handling on your monthly subscription.
Our Conclusive Review Of Neurofuse
Neurofuse is a decent supplement if you are looking to boost your mental functioning. Neurofuse's ingredients are mostly natural and some of them have been shown to increase brain functioning and also overall health and mood. We are concerned about the payment method and about how hard or how easy it would be to cancel a subscription. We also feel that only 10 supplements may not be enough to validate the effects of this product during the trial phase.
Bringing you top reviews and product analysis - Consumer Advisors.