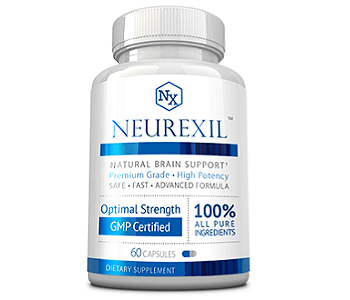 User Ratings (

0

Votes)

0
This is a review on Neurexil Natural Brain Support, a brain supplement that claims to increase concentration, sharpen memory, improve focus, boost energy levels and promote creative thinking. Research claims that it is the best brain supplement ever reviewed because unlike other brain supplements, it contains natural ingredients and also claims not to contain preservatives, artificial ingredients and additives. It claims to re-fuel the brain and stimulate cognition, boost oxygen levels, increase blood flow and circulation to the brain, improve learning, strengthen focus, increase energy, decrease body fatigue, reduce signs of aging and promote long-term brain health. Read on to find out more how this product brings about these benefits to the body.
Ingredients
This product contains the following ingredients:
Huperzine A: Enhances memory and cognitive function and improves behaviour
Ginkgo Biloba: Improves blood circulation to the brain and boosts memory
Amino Acid Blend: Enhances the secretion of neurotransmitters that improve cognition
Guarana: Fights fatigue, supports brain function in times of stress, stimulates the nervous system
Vitamin B Blend: Promotes good oxygenation, improves circulation and boosts brain energy
Choline and DMAE: Enhances the effects of choline, increases acetylcholine production to promote good nerve function
Alpha Lipoic Acid: Boosts energy production in the brain
Phosphatidylserine: Supports brain function, improves memory and improves neuroplasticity
Acetyl-L-Carnitine: Boosts brain function, increases focus and alertness levels
Bacopa Monnieri: Improves information processing in the brain and boosts memory and concentration
St. John's Wort: improves mood and helps combat feelings of depression.
Dosage
The recommended dosage for this product is two capsules per day. The manufacturer recommends taking this product one capsule in the morning and one capsule in the evening.
Possible Side Effects
The makers of this product claim that this product is manufactured in a cGMP Certified laboratory in the United States and that it is constantly tested to ensure that it is safe for human consumption. There are no known side effects from consuming Neurexil. The manufacturers claim that their product is 100% all natural and has no additives, artificial ingredients and preservatives. However, you should consult your doctor first before using this product, especially is you are pregnant, nursing, taking other medicines or if you have previous medical problems.
Price
Neurexil is sold at different prices depending on the package. They currently have a BUY 3 GET 3 FREE special. If you buy 3 bottles, you get 3 bottles free, and the product would be priced at $23.30 each bottle. If you buy 2 bottles, you get 2 bottles free, and the product would be priced at $27.95 per bottle. If you buy 2 bottles as a Starter Package, the price would be $34.95 per bottle. You can purchase one bottle at a price of $49.95.
Guarantee
Neurexil comes with a 60-day money back guarantee. If for any reason you are dissatisfied with the products, you can return all the bottles you have purchased, both used and unused, within 60 days and you get a full refund that excludes shipping.
Conclusion – Approved Science Neurexil Review
In comparison with other brain supplements, Neurexil is said to be the best brain supplement that we have reviewed. Its benefits include improved cognition, increase in blood flow and circulation to the brain, improved learning, strengthened focus, increased energy, decreased body fatigue, reduced signs of aging and the promotion long-term brain health. No side effects have resulted from the consumption of this product at 2 capsules per day. Many people have tried this supplement and have reported great results. There are no artificial ingredients and preservatives in this product. Priced with BUY 3 GET 3 FREE special discount rates and with a 60-day money back guarantee, this product is sure to boost your brain function while making you get your money's worth. If you want to boost brain function and memory, then Neurexil is certainly the best product for you.
Bringing you top reviews and product analysis - Consumer Advisors.