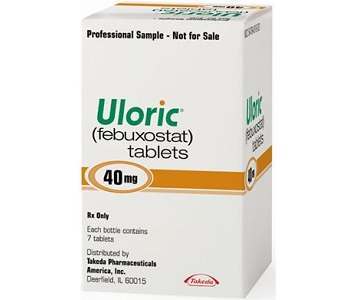 User Ratings (

0

Votes)

0
The following is a detailed review of ULORIC, a prescription medication for managing gout. ULORIC is a prescription medicine designed to lower uric acid levels in the blood. ULORIC is only used for people who have a history of gout. If your blood tests show abnormally high levels of uric acid but you don't have a history of gout, you should not take this medication.
Ingredients
The main ingredient in ULORIC is febuxostat ( 2-[3-cyano-4-(2-methylpropoxy) phenyl]-4-methylthiazole-5-carboxylic acid).
Other inactive ingredients include:
Microcrystalline cellulose
Hydroxypropyl cellulose
Sodium croscarmellose
Silicon dioxide
Dosage
For reducing uric acid in patients with gout, the recommended dosage is 40mg daily. This should be adequate for lowering serum uric acid to 6mg/dL. If this level is not achieved within 2 weeks, dosage should be increased to 80mg per day.
Take tablets with water. If there are any doubts, follow your doctor's instructions precisely.
Possible Side Effects
The most common side effect of ULORIC is the initial increase in gout symptoms, which are caused by a build up of urate from tissue deposits due to a sharp decrease in uric acid levels. To prevent these flare ups, it is recommended to take a prophylactic treatment concurrently with ULORIC.
There are other serious side effects associated with ULORIC treatment, including the following:
Cardiovascular effects – In all clinical trials testing for ULORIC side effects, a high rate of cardiovascular events was observed. There's a high chance of stroke and myocardial infraction resulting from ULORIC medication. Patients with heart problems should use this medication under strict medical supervision.
Hepatic effects – There have been reports of fatal and non-fatal hepatic failure in some individuals that were taking ULORIC. As such, you may need to take a full liver analysis test prior to initiating ULORIC treatment.
Other known adverse effects include liver function abnormalities, nausea, skin rash, and arthralgia.
ULORIC has drug interactions with Azathioprine or Mercaptopurine, so avoid it if you're on either medication.
Price
The official website lists the price of a 40mg tablet as $15. However, we searched other websites and found that the price ranges from $13.2 to $15 per 40mg tablet.
You can sign up for an exclusive ULORIC savings card and take advantage of massive discounts on your purchases.
Guarantee & Feedback
There is no guarantee for this medication. As this is a conventional prescription medication, no guarantees are offered. The stated efficacy is tested and proven through a series of clinical trials.
On the official ULORIC product page, we perused a number of patient testimonials that were all positive.
Our Conclusive Review About ULORIC (febuxostat)
ULORIC is a conventional prescription medication that is effective in decreasing the levels of serum uric acid, and therefore effective in managing gout. If you want a relatively quick solution to managing a bad case of gout, ULORIC treatment may offer the desired results.
That said, we are concerned about the safety profile of this medication. While it is effective in managing gout, it also exposes patients to life threatening side effects. In addition, it has some serious interactions with at least two other drugs.
You may be better off looking for a natural alternative that is equally effective and has a clean safety profile.
Bringing you top reviews and product analysis - Consumer Advisors.