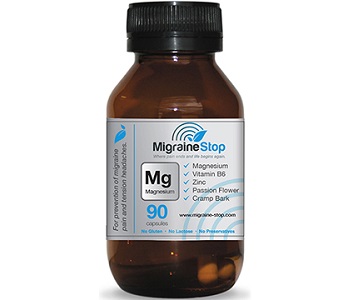 User Ratings (

0

Votes)

0
Finding a reliable migraine cure could be tough, especially when you have to pay attention to the dosage of painkillers as an overdose could cause severe side effects. Why not try an all-natural supplement to take daily to reduce the frequency of migraines and help ease the pain of current migraines you may be suffering from.
Ingredients
magnesium
vitamin B6
vitamin B3
folinic acid
zinc
cramp bark
All of these ingredients combine to create an anti-inflammatory effect on the brain, improve the brain's blood flow, and provides antioxidants to the brain. The combination of magnesium, cramp bark and passion flower also provide helpful, relaxing properties that also help with insomnia and anxiety.
However, there were key ingredients that were lacking that are available in other migraine supplements. Some of these ingredients are butterbur, feverfew, curcumin, ginkgo biloba, white willow, and ginger. These add more antioxidant properties to the supplement and also have calming effects on your brain. The amount of magnesium in each capsule is above average as compared to other migraine supplements: it has 1200 mg. There is a lower amount of vitamin B3, however, with only 45 mg versus a more effective amount of 400 mg.
Dosage
This supplement is suggested to be taken two to three times a day, depending on the severity of the migraines. If you do not get migraines frequently, you should take two capsules daily with food. If you have chronic migraines, start taking the regular dosage of two capsules for two weeks with food. Afterwards, you can move up to three capsules a day. It is recommended to take capsules as one dose instead of spreading them out throughout the day.
Price
For a two-month supply of 90 capsules, one bottle through the website is $49.95, saving you a little over $20 by purchasing from the site. If you subscribe to receive this supplement monthly, you can save 10% on one bottle. There are also bulk discounts available – three bottles are just $99.90, reducing the price of each bottle by $16.65.
Guarantee & Feedback
There is a year-long guarantee for this product, which is very reassuring. To know that if a customer isn't satisfied with a product, they have an entire year to return used or empty bottles for a full refund.
After perusing through customer reviews of this product, we saw mixed results. On the one hand, it seems like customers are very happy with the migraine relief they are getting from this product. On the other hand, customers wrote in to say the product doesn't work for them at all, or that it worked along with medication.
Our Conclusive Review About Migraine Stop
After looking into this supplement, Migraine Stop shows to have helpful all-natural ingredients to ease migraine pain quickly and to prevent further migraines from happening. The powers of magnesium, vitamin B3 and Vitamin B6 and cramp bark work as anti-inflammatories to help by providing antioxidants. There is a reliable guarantee where you can return a product you thought was unsatisfactory within a year and there are many discounts you can get from buying many bottles. However, there are key ingredients that are lacking that help ease migraine pain, like curcumin and butterbur extract. Perhaps there are more effective supplements available that are more worth your money.
Bringing you top reviews and product analysis - Consumer Advisors.