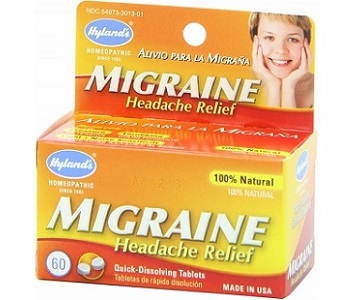 User Ratings (

0

Votes)

0
This is a review for Migraine Headache Relief, a migraine aid that claims to be 100% natural and that it reduces the symptoms of severe headaches. Migraines are chronic headaches, where a throbbing pain is often experienced. This is usually accompanied by acute sensitivity to light, sound and smells and can disable the sufferer as a result of the intense discomfort.
Ingredients
This product consists of mostly homeopathic ingredients, derived from plant-based sources. These include; Glonoinum, Belladonna, Gelsemium, Nux Vomica, Iris Versicolor, Sanguinaria Canadensis. These compounds are used to assist with headaches, vertigo, nausea and the other symptoms many people experience during a migraine attack. However, there is not much to substantiate these claims. Although this herbal product promises to be 100% natural, it does contain the inactive ingredient Lactose N.F., which is a chemical-base hardener used during the manufacturing of tablets. We could also not find information on the quantities in which these ingredients were present.
Dosage
According to the product information we discovered while reviewing Migraine Headache Relief, we found that the recommended usage suggested that one or two tablets should be dissolved on the tongue. After every four hours or as required. It did not stipulate if this product should be taken with or without meals. The manufacturer's website did include a warning, which stated that a healthcare professional should be consulted if you suffer from a fever, stiff neck, have asthma, ulcers or bleeding problems.
Price
You can buy Migraine Headache Relief from online and physical retailers such as Walmart and Amazon. Currently, the price for one box, consisting of 60 tablets was not displayed on the manufacturer's website. We did find several different prices on various online platforms, which meant that we could not determine a single confirmed unit price.
Guarantee & Feedback
While there was some positive feedback from past users of this migraine product, there were some negative reviews online. In addition to this, the manufacturer did not have any satisfaction guarantee available. As this product is not sold directly through them, the returns policy of the retailer you purchase the product from would have to apply.
Our Conclusive Review About Hyland's Migraine Headache Relief
In closing our review for Migraine Headache Relief, we enjoyed that this product predominantly consisted of all natural ingredients, which were derived from different herbs and plant sources. We also thought that this product received some good feedback from past users. However, there were many factors that were a bit unsettling. Firstly, that the manufacturer does not sell their product themselves or that no definitive price or guarantee was in order, makes it difficult to gauge its affordability and the financial risk involved. Secondly, our discovery of an unnatural ingredient disproves claims of being 100% natural. And lastly, the fact that there was a substantial warning on the label, without the proper ingredient quantities visible, makes us question whether this is the best product for chronic headaches.
Bringing you top reviews and product analysis - Consumer Advisors.