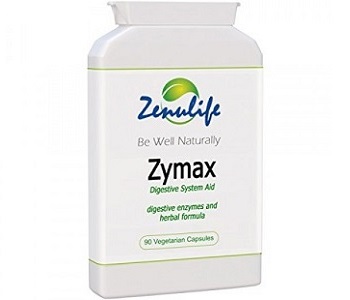 User Ratings (

0

Votes)

0
We have reviewed the Zenulife Zymax Digestive Aid , which is a dietary supplement formulated to help with overall digestive health. We see how it works as an antioxidant and a source of enzymes which are key to the body's digestive cycles which involve bad breath, body odor, frequency and nutrient absorption.
Ingredients
Active Ingredients:
Bromelain
Betaine Hydrochloride
Amylase
Protease
Lipase
Apple Cider Vinegar
Ginger Root
Fennel
Peppermint Leaf
Turmeric
Chamomile Herb
Caraway Seed
The ingredients Lipase, Protease, Amylase, Bromelain, Papain and Betaine Hydrochloride are all geared towards aiding digestion whereas Apple Cider Vinegar, Turmeric, Peppermint leaf, Chamomile Herb and Ginger Root all work together as antioxidants. Caraway Seeds have been found to prevent intestinal worms and relief of spasms.
Most competing brands include a probiotic as an ingredient in their blend, this works to restore balance in the body's digestive system. Another powerful ingredient which this blend is lacking is Chlorophyllin-copper complex, which is clinically proven to neutralize malodors in the body.
Other Ingredient:
Hydroxypropyl-Methylcellulose
This encapsulates the active ingredients, and unfortunately for vegans and vegetarians, it is derived from animal by-products.
Dosage
One to three capsules is to be taken before the consumption of the largest meal of the day. The manufacturer suggests that for optimum results, this product is to be used in conjunction with another product of theirs, which is a probiotic (Xbiotic), which therefore dosage can be decreased to one to two capsules taken two to three times a day or as needed. otherwise, a dosage of two to three capsules may be taken over a period of three to four weeks. Consult with a doctor before initiating use.
Should a person have peptic ulcers, this product should be avoided.
The fact that the manufacturer recommended that this product should not be taken on its own leads us to wonder whether the product is potent enough or not.
Possible Side Effects
Betaine Hydrochloride may cause heartburn and not enough evidence is supplied for us to know whether pregnant or nursing women may use it safely. This laboratory-formed chemical has been known to keep stomach ulcers from healing or cause irritation to the ulcer.
Price
This product may be bought online directly off of the manufacturer's website for $29.00 for a container of 90 capsules which are shipped without charge. Discounts and coupons are offered on the manufacturer's website. Free shipping is offered on all products which are $49.00 or more.
Guarantee & Feedback
The manufacturer offers a 60-day money-back guarantee in which the customer may return the product they are unhappy with. A customer care number is supplied via the website, however, no information is supplied regarding the condition (open or unopened) the product may be returned in.
Our Conclusive Review About Zenulife Zymax Digestive Aid
In our review of  Zenulife Zymax Digestive Aid, we have found that customers have given some good feedback about the product. We also like the fact that this product is affordable. After our research, we are somewhat disappointed to have found many shortfalls of this product, such as the short guarantee period, lack of powerful ingredients, possible side effects (heartburn and irritation of peptic ulcers) as well as the use of non-vegan and vegetarian-friendly encapsulation.
Bringing you top reviews and product analysis - Consumer Advisors.