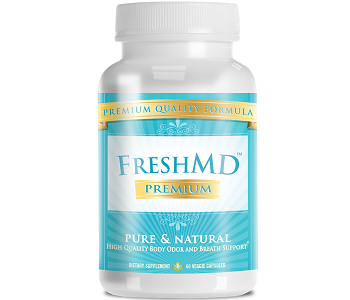 User Ratings (

0

Votes)

0
Read our review below about FreshMD. It combats malodors such as foot odor, body odor and bad breath. The ingredients found in this formula reduces the odors by working from the inside of the body and it, therefore, targets the root cause of the problem. This method is way more effective than simply using breath fresheners and cosmetics. What puts FreshMD above other products on the market is the fact that they make use of only quality, natural ingredients, with no added additives or binders – making it one of the best body odor formulas on the market.
Ingredients
All of the ingredients used in this formula have been backed by clinical studies. The following ingredients are included: Lactobacillus Acidophilus (a probiotic that helps to balance the bacteria in the mouth and gut), Chlorophyllin-Copper Complex (binds with odor-causing compounds and removes them from the body), Green Tea Extract (helps the body to get rid of toxins which in turn reduces bad breath and body odor), Magnolia Bark Extract (kills bacteria that causes bad breath), Peppermint Oil (deals with digestion problems), and Fennel Seed (beneficial for those suffering from constipation and bloating and improves digestion).
Dosage
Two capsules should be taken per day – one in the morning and one in the afternoon.
Possible Side Effects
Consult your doctor before you start using this product if you are pregnant, nursing, under the age of 18 or if you have a known medical condition.
Price
Buy the Sampler's Package/1 Bottle Test Plan for $48 (save $20).
Purchase the Beginner's Package/3 Bottle Plan for $30 per bottle (save $113)
Purchase the Moderate Package/4 Bottle Plan for $28 per bottle (save $160).
Buy the Best Selling Package/6 Bottle Plan for $23 per bottle (save $270).
We find it very impressive that by buying the manufacturer's top-selling package, you save $270.
Guarantee & Feedback
For both opened and unopened products – you will receive a full money-back guarantee for up to 90 days after you made the purchase. This means that if this formula does not take away your body odor and bad breath, you can get your money back. The company is, therefore, really confident in terms of how effective this formula is.
When looking at consumer reviews, there are clients who stated that they are really happy that they no longer have to suffer the humiliation of body odor since they've started using this product.
Our Conclusive Review About Premium Certified FreshMD
After we reviewed FreshMD, we found that, unlike other products, this formula contains only natural, quality and clinically proven ingredients.
What sets this product apart is the fact that it offers a total-care solution to fight bad breath and body odor by not only addressing the causal factors but also the associated symptoms.
We also found it very impressive that the manufacturer offers a 90-day satisfaction guarantee for both opened and unopened products. This really gives the consumer the chance to try out their product without the risk of losing any money.
Bringing you top reviews and product analysis - Consumer Advisors.