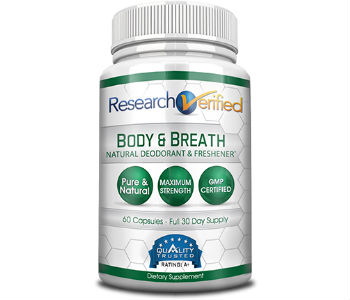 User Ratings (

0

Votes)

0
This is a review of Research Verified Body & Breath Relief. Bad breath is something that most people have struggled with, however, for most people a simple deep teeth cleaning helps. However, there are those who have issues that make bad breath impossible to overcome and that is who this product is targeted at. For those who are struggling with bad breath, read on for the complete review of this product.
Ingredients
There are several ingredients in Research Verified Body & Breath Relief that are working together to get bad breath under control. These ingredients include:
Chlorophyllin-copper complex
Green Tea extract
Fennel
The product includes all natural ingredients. The other ingredients that are going into this product include:
Gelatin
Magnesium stearate
There are no preservatives, coloring or hormones used in the making of this product.
Dosage
Research Verified Body & Breath Relief can be used as a dietary supplement that you only take when you need or it can be used continuously. Most people find that they get better results with continuous use, as the ingredients keep in their system to ensure that their bad breath is not an issue. When taking this supplement continuously, you are going to want to take one capsule in the morning before breakfast with a full glass of water, and another capsule in the afternoon before meals with a glass of water. For those who only want to take this when they need it, you can take up to three capsules per day as need. For best use you will want to take this with water.
Possible Side Effects
Side effects are not known to be an issue with Research Verified Body & Breath Relief, as the ingredients are found in nature. However, this is not a supplement that should be taken by pregnant women, those women who are breast feeding, those who are under the age of 18, and those who have previous medical conditions without discussing this with a medical professional first.
Price
There are three packages for consumers to choose from, all offering savings. The 1 month supply package is going to include one bottle of Research Verified Body & Breath Relief that is going to cost $48. This is a 31% savings off of what the bottle usually costs. The three months' supply includes 3 bottles of the supplement that puts the bottles at $33 each. The total package price is $98, savings you 53%. The most popular package is the six months' supply that includes 6 bottles, allowing you to purchase these for $24 each. The total package is going to cost $142, which is a 66% savings compared to regular price.
Guarantee
Research Verified Body & Breath Relief comes with one of the best guarantees that can be seen in the health supplement market. They offer a 365 money back guarantee so that there is no risk to you to try this supplement out. They offer a guarantee that within one year of trying the product, if you are unhappy with the results, you can return the used and unused bottles for a complete refund. This is an amazing time frame, as most companies only offer such a guarantee the first few days of using the product. It is always refreshing to find a manufacturer that fully stands behind their product. Read up more about this manufacturer with this Research Verified brand review.
Conclusion Of Our Research Verified Body & Breath Review
There are numerous people who struggle with bad breath. They may chew gum, mints, brush their teeth aggressively, but they are still dealing with embarrassing breath. Research Verified Bad Breath Relief is one way that a person can take their life back and avoid this embarrassment. Some of the more positive aspects about the product:
An amazing 365 complete refund with no questions asked if you want to use this
Utilizes all natural products that are chosen thanks to what they can do for the root cause of bad breath in a person
This is a product that is manufactured in the US, utilizing safety regulations put forth to keep everyone safe
Those who have used Research Verified Body & Breath Relief have seen great results. It can totally change someone's life by ensuring that they are not embarrassed about their bad breath any longer.
Bringing you top reviews and product analysis - Consumer Advisors.