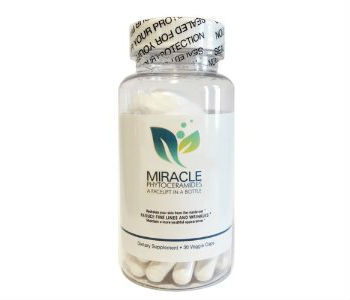 User Ratings (

0

Votes)

0
Most people who watch any daytime doctor show will likely have heard about phytoceramides. This supplement is said to make your skin to look smooth, younger and healthy. Our Miracle Phytoceramides review, below, digs into the ingredients, dosage, price, guarantee and feedback for this product to help you decide whether it's the right skin health supplement for you.
Ingredients
The main ingredients of Miracle Phytoceramides are vitamins A, C, D, E and 350 mg of Phytoceramides. The main goal of this extract is to increase the natural ceramides which, in turn, protect the skin against moisture loss. The vitamins are added for their anti-aging effects and support of overall health.
Dosage
It is recommended to take one capsule every day with water. Best results are said to come from using this product consistently, day in and day out.
Possible Side Effects
Reports of side effects are infrequent although at least one user review complained of an allergic reaction which made her skin notably dry and red. However, the manufacturer suggests pregnant women and people with health issues should avoid taking this supplement. If you have a medical condition you consult with your healthcare professional before trying this product.
Price
At the time of our review, a notice on the manufacturer's website informed visitors that "we are not accepting any new orders and are only serving our existing customers," and clicking the "Buy Now" button produced no results. In fact, it should be noted that all links on the manufacturer's product page were broken. We were able to find a 30-count bottle of this product available for purchase on Amazon for $24.90. This is a reasonable price point for a month's supply of phytoceramides.
Guarantee & Feedback
Given the defective state of the manufacturer's website, we were unable to find any type of manufacturer guarantee for this product. Customer ratings and feedback on Amazon, as of our review, were not overly impressive with over a third of the comments rating the product negatively. Most of these posts said the product simply had no effect.
Our Conclusive Review About Miracle Phytoceramides
It does seem that Miracle Phytoceramides has a decent formula that does, in fact, produce positive results for some people. However, given that the product need be taken consistently and for some time to produce results, and given that the company is no longer accepting new customers, not only can we not recommend this product but, even if we could, we have little confidence that you will be able to get your hands on an ongoing supply. Although it seems you may be able to purchase it still, from Amazon, there is no way to know if the product will continue to be available there. We would recommend finding a phytoceramides supplement with a product website that actually works and accepts new customers and a higher Amazon customer feedback rating.
Bringing you top reviews and product analysis - Consumer Advisors.