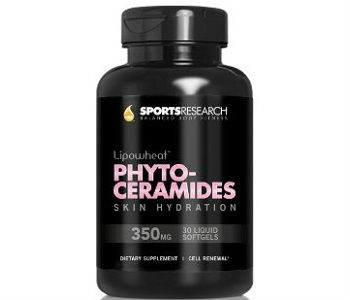 User Ratings (

0

Votes)

0
Sports Research Phytoceramides Skin Hydration is said to be an effective dietary supplement that moisturizes and rehydrates dry skin and helps reduce the discomfort of itchy skin. It works to create a youthful and healthier appearance and strives to minimize wrinkles and other signs of aging. Today we report on our review of Phytoceramides Skin Hydration and present our findings to help you decide whether it fulfills its promises.
Ingredients
We found the main ingredient in the product is lipowheat phytoceramides. Lipowheat is a non-GMO form of wheat whose phytoceramides help take care of the skin and its aging symptoms. The other ingredients include softgel capsules made from kosher gelatin, kosher vegetable oil, glycerin, and purified water.
We did not find the product lacking in any ingredient.
Dosage
As a dietary supplement, it is recommended that you consume one liquid softgel capsule per day with a meal. You can also consult your doctor to find out how many capsules you should take daily.
Do not exceed the recommended dosage.
Possible Side Effects
There appear to be no side effects of taking Phytoceramides Skin Hydration. However, the product label does warn users to keep the supplement out of reach of kids and to check with their doctor if they are pregnant, breastfeeding, or have a health condition that requires medication. Also, it contains wheat so it may not be the best product for those who have a gluten allergy.
Price
A single bottle of Sports Research Phytoceramides Skin Hydration comes with 30 softgel capsules and is available at a price of $22.95. You can buy the product online and while you're at it, check for offers and discounts.
Guarantee & Feedback
This dietary supplement comes with a money-back guarantee. However, the manufacturer does not explicitly state the time period during which you may return the product and in what state (ie. do they accept open or only unopened product).
It was nice to see the positive reviews overtake the negative ones, with consumers saying that the product reduces visible wrinkles and fine lines. Some users went so far as to state that Sports Research Phytoceramides Skin Hydration is a miracle product that magically makes your skin look radiant and younger.
Our Conclusive Review About Sports Research Phytoceramides Skin Hydration
As long as you adhere to the prescribed dosage, this anti-aging supplement that comes with what looks like a simple formula that assists in the growth of new skin cells and repairs old and damaged cells. It is a straightforward product that offers high quality. We did not find anything unique about Sports Research Phytoceramides Skin Hydration though, anything that would distinguish it and make it stand out from similar anti-aging supplements.
It does fall short in its lack of essential vitamins that are present in other phytoceramide products. Although those who have tried the product have given favorable reviews, we did not find many reviews, which may imply the product is not widely used. Our Phytoceramides Skin Hydration review of the product advises you to be a little cautious as we are
In conclusion of our Phytoceramides Skin Hydration review, we would advise caution as we are a little skeptical about it.
Bringing you top reviews and product analysis - Consumer Advisors.