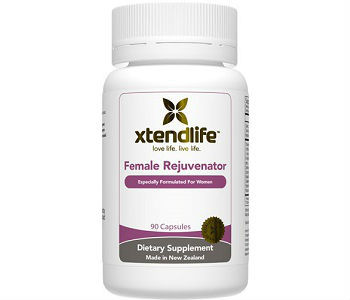 User Ratings (

0

Votes)

0
Xtend Life Rejuvenator is an all-natural herbal supplement designed specifically for women suffering from the signs and symptoms of menopause. Menopause typical happens in three stages and Xtend Life claims to offer the relief menopausal women are seeking. It claims to use clinically proven ingredients in a combination that is effective. They suggest using Xtend Life in conjunction with Total Balance Women's Premium and Omega 3/DHA Fish Oil to obtain the maximum benefits.
Ingredients
Xtend Life Female Rejuvenator is made up of ten natural ingredients. They are as follows:
209 mg of Calcium – essential for the maintenance of strong bones and healthy teeth.
114 mg of Magnesium – essential for the growth of bones and functioning of the nerves and muscles in the body.
500 mg of Tribulus Extract – a plant that is used in herbal medicines to help with problems that affect the kidneys, urinary tract, skin disorders and erectile dysfunction in men.
300 mg of Histidine – an amino acid that helps aid proteins in the body and influences metabolic reactions. It is found mainly through a balanced diet and is beneficial for people recovering from illnesses.
200 mg of L-tyrosine – is an amino acid that helps improve mental alertness.
198 mg of 5-hydroxytryptophan – a chemical by-product of L-tryptophan. It is used to help reduce insomnia and help counter depression.
150 mg of Damiana – a wild shrub like plant. It is used to alleviate depression, headache and constipation.
100 mg of Dong Quai extract – commonly used to treat menopause but there is no evidence that it is effective. It is more effective in treating premature ejaculation in men.
38 mg of Piperine – aids in the digestion of food.
15 mg of Red Clover extract – contains isoflavones which are converted in the body into phytoestrogens which are similar to the hormone estrogen.
Dosage
To obtain the best results from Xtend Life it is suggested that three to six capsules be taken every day. Woman can split the dosage into two by taking one dose in the morning and one dose in the afternoon. Xtend Life can be taken with or without food. It is also recommended that the supplement be taken at least two to three hours before or after any prescription medications.
If women are taking Xtend Life in conjunction with Total Balance Women's Premium, the recommend taking six capsules every day for two to three months then reducing the dose to three capsules per day.
Price
Xtend Life comes in bottles of 30 capsules for the suggested retail price of $29.95.
Guarantee
We are unable to locate a product specific guarantee, however third party retailers may have their own guarantees or refund policies. It is always important to check this information before committing to buy.
Our Conclusive Review About Xtendlife Female Rejuvenator
In comparison to the leading menopause supplements, Xtend Life is relatively expensive. A bottle of 30 capsules being taken at the maximum dose of six capsules per day will only last approximately five days. Furthering adding to the concern of affordability, the product does not have a definitive guarantee nor FDA inspection.
Bringing you top reviews and product analysis - Consumer Advisors.