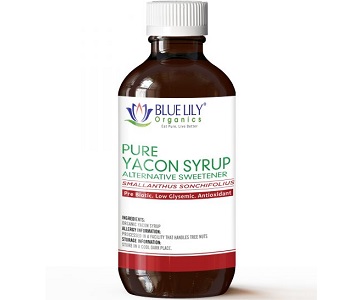 User Ratings (

0

Votes)

0
Losing weight and dieting can be especially hard for those with a sweet tooth. Yacon Root exploded onto the weight loss market when it was discovered for its low-calorie sweetness. It contains fructooligosaccharides that we are unable to digest, so you can enjoy the sweet syrup without adding to your waistline. Yacon is also believed to have appetite suppressing properties and can speed up your metabolism. This review is going to examine Blue Lily Organics Pure Yacon Syrup. The manufacturer claims that their syrup is an excellent prebiotic with a low glycemic index, making it a product acceptable for diabetics. It is also rich in antioxidants, 100% vegan and organic and is non-GMO without any chemical pesticides, artificial additives or preservatives.
Ingredients
The syrup is extracted from Yacon Root that is found in Peru and is native to South America. The plant looks like a sweet potato and has the taste of a pear. It contains 50% fructooligosaccharides. The syrup is obtained in a similar extraction process as maple syrup and its high insulin content and low glycemic index makes it okay for diabetics to consume.
Dosage
Blue Lily Organics recommends substituting your usual, high-calorie sweetener with Yacon Syrup in anything you would normally sweeten. Yacon Syrup can also be used in cooking and baking.
It is believed to be safe for pregnant and nursing women but we always recommend that if you are pregnant, nursing or under medical supervision to speak with your doctor before taking any sort of weight loss product.
Possible Side Effects
Blue Lily Organics does not list any possible side effects. In our research, we found mild side effects like bloating and gas are possible from consuming high amounts of Yacon Root.
Price
One 8 oz bottle of Yacon Syrup is available on the manufacturer's website for $15.75. Blue Lily Organics does not offer any bulk purchasing packages or discounts.
Guarantee & Feedback
Blue Lily Organics offers a 30-day money back guarantee but they do not disclose if that includes both opened and unopened bottles. Consumer testimonials are mixed. Some users reported that this brand tastes thin and watered down, similar to corn syrup and were extremely unsatisfied.
Our Conclusive Review About Blue Lily Organics Pure Yacon Syrup
This Yacon Syrup appears to be a decent contender in the wide market of Yacon Syrups that are currently available. It comes in an easy to pour bottle and is vegan and organic. However, we found many consumer complaints that this syrup tastes similar to corn syrup and like it was watered down. Others reported that it had a bitter aftertaste and has a higher calorie content than other similar Yacon Syrups. Considering that you can use Yacon Syrup to replace any common sweetener, you can potentially run through a bottle quickly but Blue Lily Organics does not offer any bulk purchasing packages or discounts to make deriving the weight loss benefits that Yacon Syrup has to offer financially easier. This Yacon Syrup is also more expensive than other Yacon Syrups we have seen so investing in this brand of Yacon Syrup can result in high costs.
Bringing you top reviews and product analysis - Consumer Advisors.