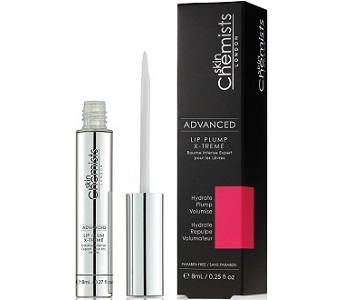 Quality of Ingredient

7.5

User Ratings (

0

Votes)

0
The following review is based on a product called Advanced Lip Plump X-treme, manufactured by Skin Chemists. This product claims to hydrate, plump, and volumize the lips for a fuller and more hydrated look. Below you will be able to see what ingredients are used in Skin Chemists Advanced Lip Plump X-treme and to see if it is something you should try. Keep on reading.
Ingredients
The list above presents the active ingredients in Skin Chemists Advanced Lip Plump X-treme, as stated by the manufacturer. Volulip helps to stimulate hyaluronic acid levels whilst hotflux increases blood flow to encourage fuller lips. Corum helps cool the lips from the warm sensation. We could not find any evidence of the rest of the ingredients list which is quite disappointing. Furthermore, we fail to see any patented ingredients whereas other brands contain up to five. Lack of these aspects may leave the product behind other brands.
How To Use
The only directions offered by the manufacturer is that the product be applied like lip gloss and that it is suitable for all skin types. Customers need to know when to apply the product and other information like how often it should be applied. Lack thereof may result in the incorrect use of the product.
Price
Skin Chemists Advanced Lip Plump X-treme can be purchased online from the manufacturer's website. A 0.25 fluid ounce tube will cost customers $168.94. This is very expensive, especially when looking at other brands. It is also noteworthy that customers know that the manufacturer does not provide a discount on the product and that there are no bundle deals made available to take advantage of.
Guarantee & Feedback
The manufacturer offers a 30-day money-back guarantee. There is only one problem. Customers may only return unused items that are in their original packaging. Thus, you will be at risk. It seems, the manufacturer is not confident in their product's effectiveness. The reviews presented are very few, however, they individuals do seem happy with the product.
Our Conclusive Review About Skin Chemists Advanced Lip Plump X-treme
The review of Skin Chemists Advanced Lip Plump X-treme has shown us what positive as well as what negative aspects it provides. We appreciate the fact that the manufacturer provides a platform for customers to write reviews for potential customers to see.
Unfortunately, we are not so happy with the following findings. First of all, we see that the manufacturer does not provide a full ingredients list and there is a lack of patented ingredients that are tested to be effective. Furthermore, customers are not provided with clear usage instructions. Finally, the customer's financial status is not of concern for the manufacturer. There are no discounts, no bundle deals, and a weak guarantee that will leave you at risk.
Our conclusion is that Skin Chemists Advanced Lip Plump X-treme is not as effective as other brands and we do not recommend it.
Bringing you top reviews and product analysis - Consumer Advisors.