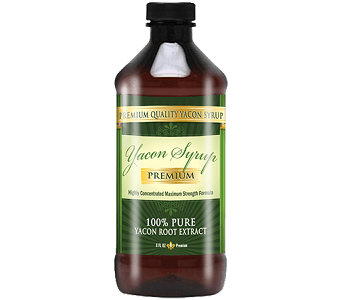 User Ratings (

0

Votes)

0
Yacon Syrup Premium is a syrup formula designed, according to the manufacturer, to help with weight loss. It accomplishes this by working to stem appetite, by assisting the body to burn fat faster and by blocking fat build up as well. It also has several other health benefits. Yacon extract can help lower bad cholesterol, reduce risk of diabetes, improve bone structure health and treat constipation. The formula contains Yacon root extract with at least 41% FOS (fructooligosaccharides). According to the company, this is currently viewed by researchers as the optimum percentage for efficacy.
Can Yacon Syrup Premium deliver the weight loss benefits you're looking for? Let's find out in our full review below. Afterwards, you decide whether Yacon Syrup Premium is a worthwhile buy.
Ingredients
Yacon Syrup Premium contains pure extract from the root of the Yacon plant. Natively grown in Peru, this natural sweetener is low calorie and has a low glycemic rating. It has been shown to help in weight loss thanks to its ability to speed up metabolism and improve the body's fiber absorption. In addition it has high levels of antioxidants. As stated earlier, studies have also shown that yacon extract can also help lower blood pressure and lower the risk of diabetes.
Dosage
The safe adult dosage for Yacon Syrup Premium is one teaspoon, three times per day. You can take it as is or you can mix it in with tea, coffee or other beverages as a sweetener. You can also mix it with or pour it on your pancakes (although too many of those probably won't help much with losing weight).
Possible Side Effects
Yacon syrup is an all-natural product. It has no known interactions with medications. We do advise interested parties to not exceed the recommended dosage. This is due to it having a laxative effect when taken in high dosages. Some mild side effects have been reported such as bloating and flatulence.
Price
Yacon Syrup Premium is available for purchase through the product website and is priced as follows:
Yacon Syrup Premium (236 ml) bottle – $48
Beginner's Package Plan (3 bottles) – $99 ($33 per bottle)
Moderate Package Plan (4 bottles) – $119 ($29.75 per bottle)
Best Selling Package Plan (5 bottles) – $139 ($27.80 per bottle)
Guarantee & Feedback
Yacon Syrup Premium comes with an impressive 90-day money back guarantee and you can return both opened and unopened bottles as well, as long as the unopened bottles are in good condition.
Feedback has been generally positive for Yacon Syrup Premium. It currently holds a 3.5 out of 5 rating in Amazon.
Our Conclusive Review About Premium Certified Yacon Syrup Premium
All in all, Yacon Syrup Premium appears to be a product worth trying if you are trying to lose weight in a safe manner. It has a one-ingredient, all-natural formula which means side effects are minimized. The per-bottle discounts for multi-bottle packages are attractive, especially given the 90-day money back guarantee. And we also like the full three-month risk-free trial period giving you lots of time to decide whether it's right for you.
Bringing you top reviews and product analysis - Consumer Advisors.