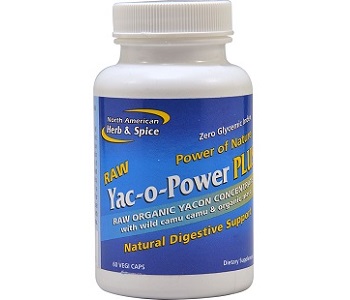 User Ratings (

0

Votes)

0
Yacon Syrup is one of the latest crazes to join the world of weight loss. It was dubbed as a "diet potato" after it was recognized for having appetite suppressing properties and the ability to speed up your metabolism. It is referred to as a "Potato" because Yacon Root looks like a potato but has been said to taste like a pear. Manufacturer's rushed to produce their own version of Yacon Root products and while some are authentic and potent, others are nothing more than money-making, synthetic versions that are full of fillers and binders. This review is going to take a closer look at North American Herb & Spice Yac-o-Power Plus. North American Herb & Spice claims to have the power of organic Peruvian Yacon Root concentrate 33:1. This Yacon Root supplement is available in the form of capsules. The manufacturer claims that their product is a good source of inulin and has the best plant-based probiotic complex, ecologic 500 which can help support a healthy digestive tract as a food source for the good bacteria in your gut.
Ingredients
The main ingredient in this product is a 400 mg proprietary blend that includes Organic Yacon Powder from 100% Peruvian Yacon, Organic Yellow Maca Concentrate, Ecologic 500 Probiotic Complex, Wild Raw Camu Camu and Wild Oregano Herb. Yacon is a plant that is native to South America. It is similar in appearance to a sweet potato and has been said to taste like a pear. It contains a high level of fructooligosaccharides that humans aren't able to digest so it is commonly used as an alternative, low-calorie sweetener. The fructooligosaccharides are also believed to suppress your appetite and speed up your metabolism.
Dosage
The manufacturer recommends taking 2 capsules twice daily.
If you are pregnant, nursing or under medical supervision you should consult with your doctor before taking this product.
Price
One 60 capsule bottle of Yac-o-Power Plus is available to purchase on the manufacturer's website for $29.99 a bottle. There are no bulk purchasing packages or discounts offered.
Guarantee & Feedback 
North American Herb & Spice Yac-O-Power Plus does not offer any sort of money-back or satisfaction guarantees. We were unable to find any consumer reviews on this Yacon Powder.
Our Conclusive Review About North American Herb & Spice Yac-o-Power PLUS
This Yacon Root supplement appears to be decent. It contains a raw concentrate and is fortified with camu camu and yellow maca. However, you can potentially take a Yacon Root supplement daily for a lifetime but North American Herb & Spice does not offer any sort of bulk purchasing options to make it financially easier and a one month's supply of their product is expensive relative to other Yacon Root supplements we have seen on the market. The manufacturer also does not offer any sort of money back guarantees and we highly recommend that if you choose to purchase this supplement, contact the customer support before you do so to inquire about any up to date return policies. Their lack of a money-back guarantee suggests the manufacturer's lack of confidence in their product. The lack of consumer reviews combined with the lack of a manufacturer's money-back or satisfaction guarantee make this product too risky to invest in.
Bringing you top reviews and product analysis - Consumer Advisors.