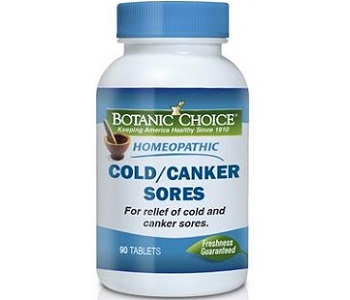 User Ratings (

0

Votes)

0
The appearance of a canker sore, also known as an aphthous ulcer, depends on many factors. There is some scientific evidence that genetic factors are involved but there are other more tangible causes such as physical wearing or food allergies. Canker sores are painful ulcers in the mouth but they are not highly infectable and so are not very dangerous to health. They can be very uncomfortable though and make the act of speaking and eating quite difficult. Botanical Choice Canker Sore Relief is a homoeopathic product designed to treat canker sores. We evaluate its effectiveness in this review.
Ingredients
The manufacturer provides reasons for their inclusion of each ingredient, but these are not well supported by scientific literature. Antimony trichloride and copper are chemicals which are included allegedly to reduce eruptions of pain or infection. Gopher plant and poison oak extract have been included to reduce swelling, itching, scaling and burning. The final ingredient which has the most scientific evidence to support it is propolis. Propolis is the resin that honeybees use to make honey. It contains many antimicrobial and antifungal substances and forms a physical barrier to ward off infection.
Dosage
The treatment comes in a tablet. Tablets must not be swallowed but rather placed under the tongue. 2 tablets must be placed under the tongue at each interval. No more than 8 tablets should be taken per day.
Possible Side Effects
Some of the ingredients have a high chance of causing toxicity. Stop use of this product if adverse reactions occur. This product has not been tested for safety on pregnant women nursing mothers and there are no studies to determine if it interacts with other drugs. It has not been tested on anyone with serious medical conditions. It is highly recommended to consult a physician before using this product.
Price
The manufacturer is currently running a buy one get one free promotion. One bottle of 90 tablets will cost $10 when purchased online. The customer will then receive another bottle free of charge.
Guarantee & Feedback
The customer has up to one year to report their dissatisfaction with the product and receive a full refund except in the case that they are returning an empty bottle. There is only one customer review available for this product which is a completely unreliable sample.
Our Conclusive Review About Botanical Choice Canker Sore Relief
This product is cheap and claims to use natural ingredients but we are quite concerned about it. The ingredients have very little scientific backing and have significant danger of causing toxicity. This product does not use any of the classical natural ingredients which are included in most canker sore treatments of a similar nature. This is probably the reason that the price is so low. It is commendable that the manufacturer offers a guarantee, but the amount of pills which are allowed to be taken before no refund can be given is not stated. We consider the purchase of this product to be highly risky and would suggest looking at more trustworthy products.
Bringing you top reviews and product analysis - Consumer Advisors.