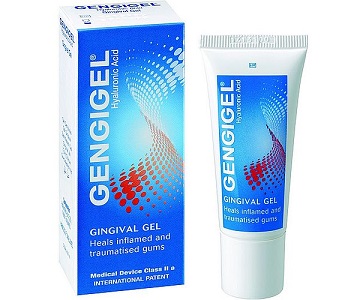 Quality of Ingredient

6.5

User Ratings (

0

Votes)

0
The following review is of Ricerfarma Gengigel Gel. We have provided detailed information on factors which may contribute to the effectiveness of the product to help you make an informed consumer purchase. The manufacturer claims that this flagship product is designed to remedy periodontal disease and associated symptoms, such as canker sores. This analysis will assess these claims and determine how accurate they are.
Ingredients
The main ingredient in this product is Hyaluronic Acid. Hyaluronic Acid is produced by the body naturally and is responsible for retaining collagen, increasing moisture, and providing elasticity. It is also known to combat discomforting sores caused by periodontal disease as it keeps the damaged tissue moist. The ingredient has anti-inflammatory properties and works to speed up the healing process of wounds in the mouth. The manufacturer makes no reference to any other ingredients in this formula. This is very concerning as there are several essential ingredients that would improve the quality of this product. Competing formulas contain significant concentrations of Vitamin B12 for improved effectiveness. The lack of this ingredient may render the product inferior. The manufacturer claims that it has an excellent research and development facility, however, provides no information regarding whether or not they hold a cGMP certification. These certifications are used to regulate quality manufacturing processes and the lack of one raises concerns.
Dosage
The manufacturer provides no information on how to use this product for optimal benefit. This is very concerning as we cannot accurately determine the best dosage or the lifespan of each tube of gel. This would need to be tested by the customer, however, can only be done after a purchase has been made.
Possible Side Effects
The manufacturer provides no warnings of possible side effects. Paired with the fact that we do not know the concentration of the main ingredient in the formula, this is extremely worrisome. We cannot accurately gauge whether or not this product will induce negative side effects. Also, the manufacturer provides no precautions for individuals who are pregnant and breastfeeding. This is very concerning as Hyaluronic Acid should be avoided in these cases.
Price
The product can be purchased online through third-party sites. It retails for $11.99 on Amazon. This seems to be a relatively affordable price, however, we cannot determine the lifespan of each tube. Therefore, long-term use could become costly to maintain.
Guarantee & Feedback
The manufacturer does not support purchases of this product with a guarantee. This is very concerning as it suggests that they are not confident in the product's ability to deliver results. Guarantees are applicable on third-party sites, however, generally apply to unopened products. In these cases, customers have no way of applying for a refund if the product does not work. There are mixed customer reviews for this product. Many have claimed that it did not work as intended. Results are, therefore, subjective and not guaranteed.
Our Conclusive Review About Ricerfarma Gengigel Gel
Gengigel Gel by Ricerfarma contains an active ingredient known to be beneficial for remedying canker sores. It appears to be competitively priced. However, prolonged use may become costly as we are uncertain of the lifespan of each tube. The product effectiveness is not supported by a guarantee and many negative customer reviews argue that it does not work. The fact that this product lacks key ingredients common to alternatives on the market is another major concern. We, therefore, do not recommend this product for relief from canker sores.
Bringing you top reviews and product analysis - Consumer Advisors.