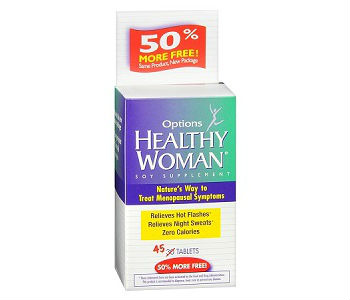 User Ratings (

0

Votes)

0
Options Healthy Woman Soy Menopause Supplement is meant for women who are going through their menopause period. It is derived from natural ingredients. Its main ingredient is OptiSoy. It gives the right amount of quantity to the body which prevents menopause symptoms such as hot flashes or night sweats. It should be worth noting that the supplement contains zero calories.
As women reach their menopause period, their estrogen level decreases. This results in them losing their bone density. Calcium helps in stopping this and aids in maintaining the health and strength of both bones and teeth. Another very relevant ingredient of this particular supplement is isofalvone. These are herb hormones. Isoflavone have effects very similar to estrogen. When one eats it they act as estrogen receptors present in the body. This prevents the body from feeling weak due to the low levels of estrogen. Hence, this will have the positive effect of the menopause symptoms being decreased. In addition to this, the intensity of the menopause symptoms will be lessened.
Ingredients
Some of the key ingredients that is present in Options Healthy Woman Soy Menopause Supplement are as follows:
Calcium or another name that is goes by Dicalcium Phostate.
Microcrystalline Cellulose
Croscarmellose Sodium
Soy Isofalvone
Magnesium Stearate
Silica
Hydroxypropyl Cellulose
PEG
If you want this supplement to have a positive and quick outcome then you will need to it every day. One tablet a day is necessary.
Side Effects
There are no side effects in general. However, if you happen to be allergic to soy then it is strongly recommended that you do not take the supplement. In this situation, you should contact your doctor and ask him for professional advice.
Price
The price of these supplements is very reasonable. A bottle consists of 45 tablets. A bottle of Options Healthy Woman Soy Menopause costs $9.97. As compared to other supplements in the market, it is lower. In this way, you will only have to buy a bottle of it once a month. In order to keep yourself healthy, one should not be hesitant in investing in these tablets.
Guarantee
Options Healthy Woman Soy Menopause has top notch quality. This is further emphasized by the guarantee that the company has given to the purchasers. Websites such as Walgreens which act as a third party have also given warranty for the supplements. If you find a defect, then you can return it on a 30 day return policy. If you remain unsatisfied by the product then you will be able to gain back the money you paid for the tablets in the first place. In order to claim an entire refund which includes shipping costs, it is important that the bottle of supplements is not used.
Conclusion Of Our Options Healthy Woman Soy Menopause Review
The key ingredient is soy and calcium in Options Healthy Woman Soy Menopause Supplement tablets. Its price and quality makes it worth buying the tablet. However, there are no stipulations for the dosage intake.
Bringing you top reviews and product analysis - Consumer Advisors.