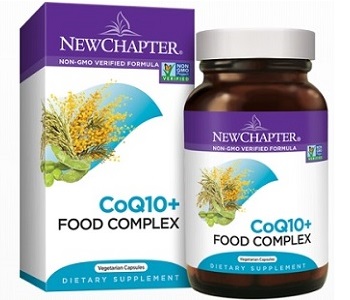 Quality of Ingredient

7.5

User Ratings (

0

Votes)

0
Read our review below about a product called New Chapter CoQ10+ Food Complex, that is designed to help with antioxidant and cardiovascular support. According to the manufacturer, this supplement is easy to digest and can be taken any time of the day, even on an empty stomach.
Ingredients
This product contains 22 mg of CoQ10. CoQ10 takes care of the body organs and tissues by preventing oxidation and high cholesterol, which decreases the risks for infection and diseases. CoQ10 provides energy for body cells in order to keep the body going.
Other ingredients: Culture media (organic milled soy [including isoflavones], organic Saccharomyces cerevisiae [active and inactive, including beta-glucans], organic maltodextrin, organic gum acacia, lactic acid bacteria [L. acidophilus, B. bifidum, L. rhamnosus], papain [deactivated]and bromelain [deactivated]), organic milled rice, hypromellose (capsule) and silicon dioxide.
Dosage
The recommended daily dosage is one capsule taken at any time of the day. We must say that it is not common that a capsule or tablet is taken anytime of the day, even in an empty stomach. In most cases you would take it just before meals, or after your meals.
Possible Side Effects
This product contains wheat and soy, which makes it unsuitable for individuals who are allergic to these ingredients. Possible side effects include stomach upset, loss of appetite, nausea, vomiting, and diarrhea. Some people may experience allergic reaction. It may also lower the blood
Price
You can buy New Chapter CoQ10+ Food Complex directly from the manufacturer, through their website. The cost of the product is $29.80 for 30 capsules and $53.01 for 60 capsules. Both the amounts are discounted prices. The normal cost is $44.95 for 30 capsules, and $79.95 for 60 capsules. This price is way too expensive than other similar products on the market.
Guarantee & Feedback
The manufacturer offers a 60-day money back guarantee. However, they state that the guarantee offer is only valid for products that are purchased between 1 July 2016 and 30 June 2017. This is disappointing because these dates have long passed. Even so, it does not make sense to provide guarantee only for a limited period.  There are no reviews on the manufacturer's website. However, there are some on third-party retailers' websites. They are both positive and negative reviews.
Our Conclusive Review About New Chapter CoQ10+ Food Complex
New Chapter CoQ10+ Food Complex seem to be a promising product. CoQ10 is natural, and the body needs it for survival, and for providing antioxidants and cardiovascular support. Even though unusual, it could possibly be good that the capsules can be taken anytime of the day because that means you will not miss your dose.
It is good that the manufacturer offers a money-back guarantee, as it shows their confidence on the product. However, they state that it is only valid for a limited period, and that period has passed. That leaves the customer with no support whatsoever from the manufacturer, which is not good.
Moreover, the price of the product is much higher compared to similar products on the market. We recommend that you look for a product that covers you with a money-back guarantee, and one that costs less than this one.
Bringing you top reviews and product analysis - Consumer Advisors.