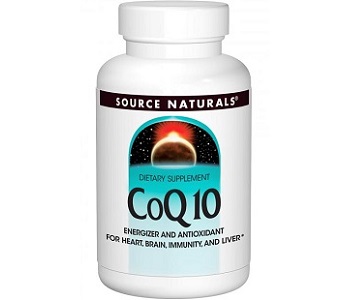 User Ratings (

0

Votes)

0
The following review is a look at a product called Source Naturals Coenzyme Q10, a coenzyme Q10 supplement that claims to offer energizing and antioxidant support to vital organs – such as the brain, heart, and liver. By replenishing the body's levels CoQ10; supplements such as these have been known to support immunity and vitality while preventing the onset of oxidative damage as well as signs of aging. In this review, we shall assess if this product is the best choice when it comes to CoQ10 supplements available on the market.
Ingredients
Source Naturals Coenzyme Q10 uses ubiquinone as its source of CoQ10. This substance is an antioxidant that can revive the body's levels of this important enzyme, which decrease with age. As the levels of CoQ10 decrease, so do its many benefits for the body – such as sustaining energy levels by supporting mitochondrial functioning. It is unfortunate to note that no additional substances have been added to increase the bioavailability of this supplement. Furthermore, there is no GMP certification of the manufacturing facility where the product was made which may imply that quality was not a priority. Another concern is that the 'other ingredients' contains a questionable substance; Maltodextrin. This food additive (often used as a preservative) may cause allergic reactions and influence blood sugar levels. This may be concerning for customers that have a history of (or currently experiencing) blood sugar conditions such as diabetes.
Dosage
This product comes in a variety of dosages that can become confusing for potential customers shopping around. Each product comes in varying concentrations of the key active ingredient (30mg, 75mg, 100mg, 125mg, 200mg, 400mg) as well as varying applications (Capsules, Softgels, Vegetarian Capsules, Lozenges, VegiGels) with different serving suggestions. Since the market standard concentration is 250mg of CoQ10 per serving, for the rest of this review – we shall refer to the closest product offered by Source Naturals: The 200 mg Vegetarian Capsules Option. While this particular serving is the closest to the market standard concentration; it is still 50mg lower. To consume this product as a dietary supplement; take 1 capsule with a meal every day.
Possible Side Effects
Pregnant or breastfeeding mothers and those with a previously known medical condition (especially diabetes and other blood sugar issue) are to be sure to consult your physician before use.
Price
This product is not available for purchase directly from the manufacturer's website, but rather, a selection of third-party sites. As there is so many product offers available, customers would need to spend a large amount of time trying to find the best value for them. This is unfortunate. The 200 mg veggie capsules come in 2 sizes with the following recommended selling price:
30 capsules – $19,50
60 capsules – $37,50
These prices are just the suggested retail price and may differ on the third-party sites. Yet again, customers may have to spend additional time searching for the best value offering.
Guarantee & Feedback
There appears to be no manufacturer guarantee available for this range of products by Source Naturals. This is concerning as it may showcase a lack of confidence in the quality and efficacy of the product. Once more, customers will have to search the third-party sites to see if they are supported by a returns policy. There are limited customer reviews available for this particular product in the vast product line.
Our Conclusive Review About Source Naturals Coenzyme Q10
Source Naturals Coenzyme Q10 has a variety of options when it comes to CoQ10 supplements. However; we feel that there are too many choices which simply confuse the customer and waste their time, rather than empower them. While the veggie capsules appear to be relatively pure, the inclusion of questionable (and potentially harmful) substances, as well as the omission of ingredients to increase bioavailability, is a concern. This product is not effectively supported by the manufacturer or by customer reviews. For these reasons, we do not recommend this product as a wise choice of CoQ10 supplement.
Bringing you top reviews and product analysis - Consumer Advisors.