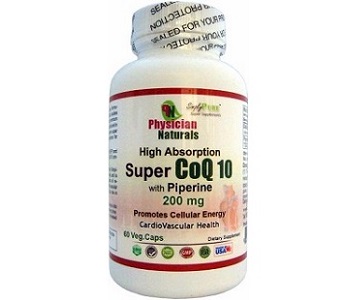 User Ratings (

0

Votes)

0
This is a review of Physician Naturals Trans Super CoQ10 With Vitamin E. The manufacturer claims that this product will support heart health, boost immune strength, and increase energy production. The information outlined in this review will determine the reliability of this claim and if you should consider this product for purchase.
Ingredients
The main ingredient in this product is Coenzyme Q10 (CoQ10). CoQ10 is a naturally occurring bodily substance that is vital to the function of most cells. CoQ10 declines with age and supplements are known to play a pivotal role in improving cardiovascular health. The ingredient fights the damaging impact of free radicals as well as regulates blood pressure. These actions are argued to improve energy production within the body and prevent heart disease. The formula includes Vitamin E for added benefit. Vitamin E is known to have anti-inflammatory properties which can lead to improved blood circulation. Vitamin E is also known to balance cholesterol levels, thus, minimizing the risk of cardiovascular disease. This product has been manufactured following cGMP guidelines and this is an indication of quality production processes. Furthermore, the manufacturer states that the formula does not contain any preservatives, artificial ingredients, or fillers. These factors are positive to note.
Dosage
Adults are advised to consume one (1) to two (2) softgels three (3) times daily with meals. Each 1 capsule serving supplies 100mg of CoQ10. Therefore, users should receive 600 mg of CoQ10 per day when taken as recommended. This dosage is significantly higher than competing products on the market that supply 250mg of CoQ10 per serving. This is very concerning as negative side effects may be experienced.
Possible Side Effects
The manufacturer does not state whether the use of this product can cause negative side effects. This is alarming as a high dosage of CoQ10 can cause nausea, heartburn, and abdominal pain. Considering the excessively high dosage recommendation, we suggest that consumers monitor for any of these side effects. We recommend discontinuing use if these persist.
Price
The product can be purchased online from the manufacturer. A bottle of 50 softgels costs $19.95. This is at a substantial 21% discount. The price seems affordable, however, each bottle will only last up to nine (9) days if used as recommended. This is very concerning as prolonged use would become extremely expensive. There are many more affordable alternatives on the market to consider.
Guarantee & Feedback
The manufacturer does not offer a clear guarantee on the purchase of this product. Customers who are not happy with results will not be able to apply for a refund. This is very concerning as it suggests a lack of confidence in the product's ability to deliver optimal results. Another major concern is that there are limited customer reviews for this product. This means that we cannot confidently assure the efficacy of the product.
Our Conclusive Review About Physician Naturals Trans Super CoQ10
This product contains a formula of beneficial ingredients that work to support heart health and boost energy production within the body. The fact that the production follows cGMP guidelines is a positive factor. That said, there are several downsides to this product. When taken as recommended, a bottle will only last up to 9 days. Customers will need to purchase this product frequently and this will become extremely expensive. Furthermore, the recommended dosage is high and may induce negative side effects. Finally, there is no guarantee and limited customer reviews to support the efficacy of the product. These major concerns are a few of the reasons why we do not recommend Physician Naturals Trans Super CoQ10 With Vitamin E.
Bringing you top reviews and product analysis - Consumer Advisors.