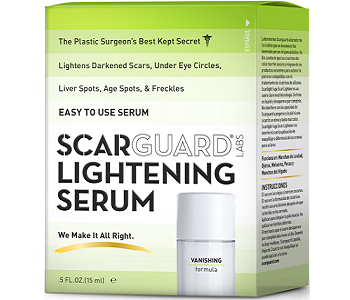 Quality of Ingredient

7.5

User Ratings (

0

Votes)

0
The following review is for a product called Scarguard Lightening Serum, this product has been formulated to lighten existing dark, brown scars and reduce skin blemishes, such as age spots, freckles or melasma, and under-eye circles. This product comes in a gel form and the skin absorbs it within seconds.
Ingredients
Active Ingredients:
Hydroquinone its primary function is to reduce melanin production in the skin and acts as a skin lightening ingredient.
Clinically proven key ingredients for effective skin cell renewal and rejuvenation should have been included in the active ingredients to provide optimum results, such as medical grade silicone, onion bulb extract, aloe vera, vitamin E, allantoin and the oils of emu, safflower, sunflower and jojoba oils.
Other Ingredients:
Retinoic Acid
Melatonin
MSM
BHT
NA Metabisulfite
Arbutin
Cystamine Licorice Root
Dandelion Root
Hydroxyanisole
Ascorbic Acid (Vitamin C)
Hydroxypropyl Cellulose
Kojic Acid
Azelaic Acid
Acetone
Propylene Glycol
Ethyl Alcohol (SDA)
Distilled Water
Retinoic Acid, Ascorbic Acid (Vitamin C), and Dandelion Root are used for acne and for anti-aging.  Melatonin used as an antioxidant. MSM is used as a building block for collagen. BHT, Hydroxyanisole and NA Metabisulfite used as a preservative. Arbutin and Kojic Acid reduces skin pigmentation. Cystamine Licorice Root used for skin infection or damage. Hydroxypropyl Cellulose used as a binder. Azelaic Acid used as an anti-inflammatory agent. Acetone used as a solvent and denaturant. Propylene Glycol used to keep products from melting in high heat or from freezing. Ethyl Alcohol gives astringents the perception of a tightening effect. Distilled Water is used as a solvent.
As the above ingredients are part of a proprietary blend and the manufacturer is not exposing the amount used, there might be a risk as some consumers may be sensitive or allergic to some ingredients.
Dosage
It is recommended to rub a small amount onto the affected area twice daily. It is also advised to limit sun exposure and to use a sunscreen as well as protective clothing if going into the sun, to prevent the skin from darkening again.
Possible Side Effects
When using this product, minor irritation may occur, stop the use of this product if irritation continues and consult with a doctor.
Price
One container at a price of $34.99 may be purchased online through the manufacturer's website as well as third-party retailers – this product is out of stock at the moment.
Guarantee & Feedback
The manufacturer offers a 90-day guarantee if the consumer is unsatisfied with the results, the product may be returned for a full refund. If purchased from a third-party retailer, refunds will be subject to their own return policy.
The consumer reviews are very pleasing.
Our Conclusive Review About Scarguard Lightening Serum
This product comes with a very good guarantee and the consumer reviews are good. But there a big concern regarding the ingredients as they are formulated in a proprietary blend and the main ingredient only offers the consumer a lightening agent. If the clinically proven ingredients were added to this formula it would give optimum healing, and rejuvenating results.
Bringing you top reviews and product analysis - Consumer Advisors.