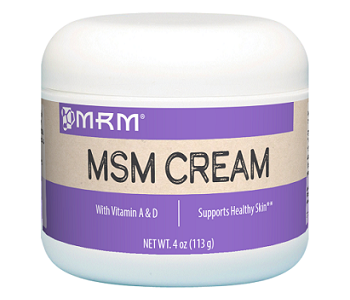 Quality of Ingredient

7.5

User Ratings (

0

Votes)

0
Your skin is the biggest organ on or in your body and as such, most people try to take care of its appearance. When damage or scarring occurs, it can be an embarrassing aesthetic problem, which is often tended to through the application of creams and lotions. Today we will review MSM Cream, a product that is based around the benefits that sulfur has on the skin. This cream claims to help the user with the health of their joints, skin, allergic reactions and overall immune health.
Ingredients
According to the information on the product label, this cream includes a long list of ingredients. These consists of deionized water, methylsulfonylmethane (MSM), propylene glycol, caprylic capric triglycerides, glyceryl stearate, stearic acid, glycerin, dimethicone, aloe vera extract, triethanolamine, sunflower seed oil, sesame seed oil, jojoba oil, vitamin A , vitamin D , calendula actiphyte, citricidal, melaleuca oil, petroleum jelly, magnesium silicate, caprylhydroxamic acid, glyceryl. caprylate, vitamin E oil. Collectively the ingredients in this cream claim to reduce the accumulation of scar tissue and improve the skin's suppleness. Sadly, we were unable to verify the various amounts of the active and inactive ingredients in MSM Cream, which does not allow users to identify whether the most effective volumes were used.
Dosage
The dosage of use information found on the product label was very limiting. Only suggesting that the user should apply the cream on the affected area. There were no instructions regarding frequency or how long one could use this product for.
Price
As a customer, you are able to order and purchase MSM Cream online, from the manufacturer's website at a price of $20.65 per bottle containing 4 oz. Unless you do not reside within the manufacturer's country, in this circumstance you would be redirected to a supplier site for other shipping and purchasing terms. We were unable to locate any special offers linked to this product.
Guarantee & Feedback
The manufacturer, unfortunately, does not have any returns policy or guarantees in place in the event of satisfaction. This does not reflect much confidence in what their product claims to do. This is particularly concerning, considering the international shipping that may apply to the purchase of MSM Cream. There was also no evidence of any customer reviews.
Our Conclusive Review About MRM MSM Cream
While we liked that some of the ingredients found in this cream have successfully been used to aid various skin conditions and problems and that the product could be purchased online, we did have some concerns. With so many different types of creams and lotions on the market claiming that they can help to reduce the appearance of scar tissue, it is important to stay vigilant and know what you are buying. In conclusion of our product review of MSM Cream, we were unsatisfied with the amount of ingredient information available to the consumer. We also had concerns surrounding the lack of guarantee and customer review – which raises questions on how beneficial the use of this product actually is.
Bringing you top reviews and product analysis - Consumer Advisors.