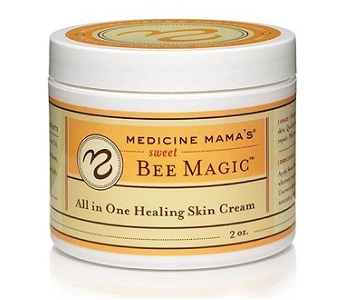 User Ratings (

0

Votes)

0
Scarring is defined as a mark on the skin, where a wound has not healed completely and has allowed for scar tissue to develop. As a very common problem, there are thousands of products available for the purpose of reducing the appearance of scars. This is a review for the skin care cream, Sweet Bee Magic. A product that claims that it can be used for a myriad of skin problems such as moisturizing, scars, skin irritation, acne, and eczema to name a few. Advertised as a completely natural product, this cream is said to assist the user with all of their skin care needs.
Ingredients
Positioning itself as a 100% natural skin care product that helps to reduce the appearance of scars, this cream contains; Organic Extra Virgin Olea Europaea (Olive), Organic Cera Alba Beeswax, Organic Honey, Propolis, Bee Pollen and Royal Jelly. These ingredients are said to have moisturizing, protective, antibacterial and revitalizing properties. While this product is cruelty-free and free from chemicals, preservatives, and additives – there is not much scientific evidence backing these ingredients' effects.
Dosage
According to the manufacturer's instructions for use, this scar and skin cream should be used by adding varying amounts of the product to the affecting area as needed. This is quite limiting, as no information on how long to use this product is available to the consumer.
Price
While researching Sweet Bee Magic for our review, we found that this product is currently on offer from the manufacturer's website at a price of $24.99 for 2 oz. This is somewhat of a high price for such a small amount of product, which makes this cream financially accessible for some consumers. We were unable to find any discount offerings or special rates connected to the purchase of Sweet Bee Magic.
Guarantee & Feedback
On the manufacturer's website, we were able to find a mix of customer reviews, with some positive feedback from past users. Regrettably, the only information on shipping we could find was for orders exceeding $49. There was no money back guarantee available at the time of this review for Sweet Bee Magic – which raises concerns about the overall effectiveness of this cream and the confidence the manufacturer has in their product.
Our Conclusive Review About Medicine Mama's Sweet Bee Magic
While researching the information for this review of Sweet Bee Magic, we discovered that this product is made from mostly organic ingredients and that it was free from chemicals and a variety of additives as well as preservatives. Sadly, this product which is used to help improve the appearance of scarring, amongst other uses, was expensive considering the amount of product you get per container. We also did not like that there was no sign of a satisfaction guarantee, or that there was limited information on how to users should apply this cream to get the most out of it. By taking all of these factors into careful consideration, we have concluded that there are other natural scar creams available that could be more beneficial to individuals that want to improve their skin and reduce the visibility of scarring.
Bringing you top reviews and product analysis - Consumer Advisors.