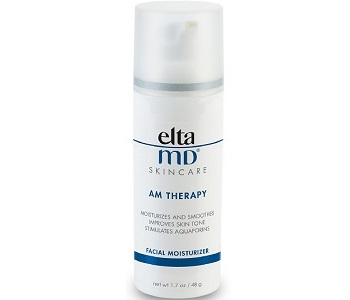 Quality of Ingredient

7.5

User Ratings (

0

Votes)

0
EltaMD has formulated what it describes as a lightweight moisturizer that is oil-free, and works to stimulate your skin's own moisture instead to maintain hydration. He latter aspect sounds quite novel, so it is with intrigue that we review AM Therapy Facial Moisturizer today. The manufacturer says that the cream stimulates aquaporins in skin cells by increasing moisture absorption and retention. Aquaporins are protein membranes through which water is transferred.
Ingredients
Key ingredients are as follows:
Vitamin B3
Caffeine
Vitamin C
Hyaluronic acid
Piptadenia Colubrina peel extract
Willow bark extract causes new cell growth to take place so that skin is smoother without causing irritation. Vitamin B3 is used to enhance skin color and tone. Caffeine, as well as Vitamin C, are antioxidants. They fight free radicals, slowing down aging. Vitamin C is a clinically proven and recommended ingredient that is best included in synthesis with Vitamin E, which has not been included. Together, these two vitamins do well to produce collagen. Hyaluronic acid is a major hydrator, known to cause and retain moisture up to 1000% better than other substances. It is sealed in with Dimethicone, a kind of silicone. Leading moisturizers use medical-grade silicone with which to seal in moisture. Piptadenia Colubrina peel extract also helps to repair your skin barrier overall, improving the appearance.
This formula goes quite far, and while it is high on hydration, it is still lacking as far as regeneration and repair go. There are also a number of clinically proven ingredients essential in a high caliber moisturizer that are missing, most notably Shea Butter and Sweet Almond Oil.
How To Use
The cream comes in an airless pump dispenser. Turn the pump bottle upside down before the first use and tap it four or five times so it comes out when you depress the nozzle for the first time. You may have to squeeze the nozzle several times at first. Apply every morning to clean skin. Use pearl-sized dots and massage into your face in upward and outward motions. Follow this up with a sunscreen. These instructions are clear and adequate. Often, cosmetic companies forget to advise whether or not their product has inbuilt sun protection.
Price
You can only buy the product from authorized sellers such as physicians, which may prove to be an inconvenience from time, cost and commuting perspectives. We did though find that the product also retails through Amazon. For the 1,7 oz dispenser, you'll pay $32.50.
Guarantee & Feedback
The product gets above average reviews from more than two-thirds of consumers. There is good feedback from many people with oily, acne-prone skin. The manufacturer is silent on the issue of returns so there appears to be no definitive policy for refunds and exchanges. This is at odds with the confidence the manufacturer otherwise displays in its products.
Our Conclusive Review About EltaMD AM Therapy Facial Moisturizer
There is a solid focus on hydration in the formula which we like. Hyaluronic acid is the leading hydrator and any formula should either contain it, or ingredients that stimulate its production. Vitamin C is another leading anti-spot and anti-aging quality ingredient that should always be present.
Optimally though, Vitamin E should also be present to stimulate collagen production and isn't. The lack of any oils in the formula may also impact the delivery of minerals and vitamins to far below the skin's surface at cell level where it is needed. Notable omissions that are clinically proven as indispensable are Shea Butter and Sweet almond oil. Without cGMP certification, adulteration or slight changes to ingredients during manufacturing cannot be ruled out, and it is not possible to say whether you are benefitting from a high enough dose of the formula components that are present. A point of inconvenience is that you can only get this moisturizer from a physician. Given this though, we did expect to see patented ingredients in the formula which ensure you are getting the most stable form of the ingredients to deliver unprecedented benefits. So, while you need a minimum of 10% active ingredients and five patented ingredients to deliver a comprehensive range of benefits, unfortunately, this moisturizer does not meet that criteria.
Bringing you top reviews and product analysis - Consumer Advisors.