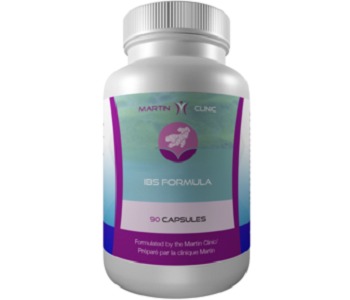 Quality of Ingredient

7.5

User Ratings (

0

Votes)

0
The following review is for a product called Martin Clinic IBS Formula. It is intended to help people that battle with Irritable Bowel Syndrome. According to the manufacturer, this supplement has 8 special ingredients that help provide relief from pain, bloating, gas, diarrhea and constipation.
Ingredients
Ginger Root, Marshmallow Root, Turmeric Root, Hesperidin, Apple Pectin, L-Glutamine and Lactobacillus rhamnosus.
These ingredients and enzymes work together to improve your digestive system. For instance, Lactobacillus rhamnosus helps reduce bloating. Ginger has antiemetic as well as pain relieving properties. Marshmallow Root has digestion soothing effects. Apple Pectin has soluble fiber, which is good for improving digestion.
Dosage
The recommended dosage is 2 capsules taken before each meal, every day. This means that you take 6 capsules a day, which will take you 15 days to finish all the supplement. We do not think that 15 days is enough to determine the effectiveness of the product. Therefore, you might need to buy two bottles, which is more costly.
Price
The price of the product is $39.97 when purchased through the manufacturer's website. This is a reasonable price, considering that there are 90 capsules inside. However, it is a lot when you have to buy two bottles for a month.
Guarantee & Feedback
The manufacturer offers a 30-day money-back guarantee. However, do not get too excited by this. It is clearly stated that you can only return unused items in their original packaging. This means that if you use the product and do not benefit from it, you can't claim your money back. It also shows that the manufacturer lacks confidence in the effectiveness of the product.
There are two consumer reviews on the manufacturer's website. Both reviews state that the consumers have benefited from the product. However, it took 5 days for one to experience the benefits, while it took 2 months for one to benefit. This shows that individuals are different, and experience different results from health products.
Our Conclusive Review About Martin Clinic IBS Formula
Martin Clinic IBS Formula seems to be a promising product for providing relief from IBS. The ingredients contained in it are all natural, and most of them have been used as home remedies for stomach issues for years. The price of the product is not bad considering that it has 90 capsules inside. However, that is only good if you are using them for a short time because these 90 capsules will be finished within 15 days since the dosage is 6 capsules a day.
The manufacturer offers a 30-day money-back guarantee, which is better than no guarantee at all. The bad thing about it is that it only applies if you have not used the product. Therefore, for a customer who is looking to benefit from the product, the guarantee is useless. Lastly, we are concerned that this product took about two months to work for one customer who shared a review on the website. It is better to buy a product that starts working within a few times of using it. Moreover, the product must be covered by a money-back guarantee that considers your needs and satisfaction.
Bringing you top reviews and product analysis - Consumer Advisors.