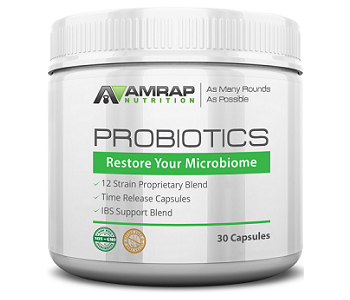 Quality of Ingredient

7.5

User Ratings (

0

Votes)

0
IBS affects more than 60 million Americans with process-rich diets, a lack of fiber and the lack of adequately balanced nutrition that that causes, leading to deficiencies that leave the bowel upset and unable to function normally. Today we review Nutrition Probiotics. Amrap takes a probiotic-first approach to treating IBS; there are several that could be taken or you could combine many approaches into one supplement. Amrap incorporates 12 probiotics, and anti inflammatory and a fiber-rich aid.
Ingredients
Marshmallow Root Extract
Chicory Fructooligosaccharides
Peppermint Leaf Extract
Lactobacillus plantarum
Lactobacillus acidophilus
Bifidobacterium bifidum
Bifidobacterium longum
Bifidobacterium infantis
Lactobacillus rhamnosus
Lactobacillus salivarius
Lactobacillus casei
Lactobacillus paracasei
Lactobacillus brevis
Lactobacillus reuteri
Lactobacillus helveticus
Marshmallow extract is widely used to relieve inflammation – you could also use ginger root or licorice. The inflammation is what gives off the impression that the intestinal lining is 'angry' – it causes the bowel to react with spasmodic pain, gas, reflux or all three. Fructooligosaccharides are an alternative to sugar. They have recently been linked as being of value not only to immunity, but as a prebiotic which therefore helps suppress IBS symptoms. Your fiber, and the encouragement the bowel needs to move, comes from the apple pectin. Peppermint has a soothing action as well, and is effective against reflux and nausea. Then there are the various strains of probiotic. Populating the gut with good bacteria is essential to get it functioning correctly again from both a digestion and motility point of view.
Dosage
Take one capsule per day or as directed by your healthcare professional.
Possible Side Effects
Consult your doctor if pregnant, breastfeeding or on medication for specific ailments.
Price
You'll pay $39.95 for a tub of 30 tablets, which is a one-month supply. At the time of researching this report, this was the discounted price on the website, down from the regular price of $59.95
Guarantee & Feedback
Despite the high price tag, consumers rate the product highly. Amrap mentions returns on its website, but offers no content to explain the extent of the policy. Without the comfort of knowing you can return the product after having used it for a while if you don't see it working, it is a hard sell due to how expensive it is.
Conclusive Review About Amrap Nutrition Probiotics
Amrap goes beyond offering various strains of probiotic by also including anti inflammatory agents, an anti reflux aid and an ingredient to help alleviate constipation. A multi-strain approach to probiotics is essential, unless you know which probiotic strains it is you are missing. The proof is in the feedback, which is good, despite the product being expensive and high-risk from  return policy point of view. It must be that the way the ingredients are combined is providing not only symptom relief but decreasing the number of attacks long term.
Don't despair if you can't afford the supplement – we have seen similarly formulated ones that are much more reasonably priced. Interestingly, this formulation is actually missing the strain most conclusively shown in trials to be of help to IBS sufferers: Coagulans. So if you want a more cost-effective product with a more comforting guarantee look for a multi-strain probiotic that also includes enzymes, amino acids and soothing agents. It is out there.
Bringing you top reviews and product analysis - Consumer Advisors.