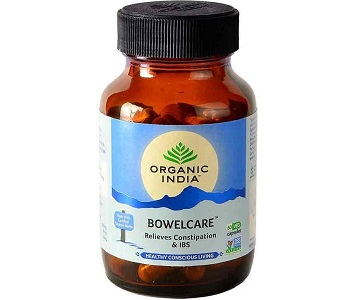 User Ratings (

0

Votes)

0
Organic India says it's traditional remedy, Bowel Care, aims to normalize the workings of your bowel, relieve constipation and also relieve IBS symptoms. It counters acidity, indigestion and helps waste to be moved along the bowel and effectively eliminated. Constipation, loose stools, diarrhea, acid reflux, gas and bloating are some of the main symptoms of IBS. They are slightly different for each person as the underlying causes vary. Supplementation of vitamins, enzymes and probiotics are the most widely used natural ways of combating IBS but it is also important to remove trigger foods from the diet.
Ingredients
Organic bael leaf
Organic chandrashoor seed
Bael is a traditional remedy that is effective in treating diarrhea and other related gastroenteral ailments. Like bael, you won't easily find chandrashoor in alternative western remedies as it is an ayurvedic ingredient used in Indian and eastern traditional medicine. However, you may know the herb by its English name, garden cress. It is used to fight bloating and gas. Psyllium husk is used to treat constipation. The husk also cleans out the inner walls of the intestines to rid it of toxins.
Dosage
Take 2 capsules twice a day with food and water or as directed by your health care professional. Use up to 3 times a day if you are experiencing a bad episode.
Possible Side Effects
The manufacturer does not state any but as a precaution you should never administer something intended for adults to children, or blindly take a supplement if you are pregnant or breastfeeding without consulting your doctor.
Price
A bottle of 60 capsules retails for $8.99 and free shipping on Amazon. There were only two reviews on Amazon but both said that the product worked.
Guarantee & Feedback
Organic India says it has a money back guarantee without providing specifics. It is therefore not clear if you can return opened or partially used products, and within how long after buying Bowel Care you need to do so. Two independently verified reviews for the product gave it a good rating for working as it said it would. It's not clear if the product is widely used, as we could not find other consumer feedback.
Conclusive Review About Organic India Bowel Care
It is clear that this ayurvedic remedy balances treating all the major symptoms of IBS – diarrhea and constipation alike, as well as gas and bloating. It does so in a gentle and effective manner. Ayurvedic remedies are not meant to shock the system into action so another benefit is likely to be that it won't lead to intrusive results that upset the rhythm of your work day, for example.
As far as alternative remedies go, it is an alternative to an alternative. So, if you prefer something more mainstream, this is not for you. It is also not for you if you have already addressed the major symptoms but would like to start working on the causes so the frequency of attacks decline. In that case you should take amino acids to repair the gut, probiotics to improve functioning, anti inflammatories and digestive enzymes.
Bringing you top reviews and product analysis - Consumer Advisors.