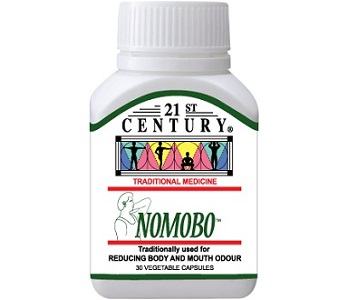 Quality of Ingredient

6.5

User Ratings (

0

Votes)

0
This is a review of 21st Century Nomobo Capsules, which stand for 'no mouth odor no body odor'. The manufacturer describes these supplements as internal deodorant capsules that offer a powerful, fast-acting, safe, and natural solution to bad breath and body odor. In this review, we shall assess the potential of this product being the best solution for bad breath and body odor available on the market, helping you make wise purchase choices.
Ingredients
Chlorophyll Extract
Parsley leaves
These supplements come in vegetarian capsules and contain a unique blend of all-natural ingredients. Chlorophyll Extract is a green pigment found in plants that are often used in body odor solutions because of its ability to detoxify the intestines while reducing odor. Parsley leaves, which are also rich in chlorophyll, is a natural deodorizer and antibacterial. Yucca extract is used to reduce inflammation in the intestines and promote detoxification and healthy bowel movements. It is unfortunate to note that this product lacks a probiotic to balance pH levels and promote healthy bacteria, which ultimately prevents odor from forming. This means this product is not likely a total care or long-term solution and may not be as effective as competing brands. Furthermore, there is no note if this product is vegan-friendly, cruelty-free, or manufactured in a GMP certified facility. The lack of these certifications many imply that quality and ethics were not a priority during production.
Dosage
To take this product as a dietary supplement, take 1 vegetarian capsule in the morning. The manufacturer's website has conflicting information as to how long the product lasts; stating 12 and 24-hour protection. The dosages seem to be okay, however, the lack of key active ingredients definitely impact on the efficacy of this product.
Price
A bottle of 21st Century Nomobo Capsules can be bought directly from the manufacturer's website. 1 bottle contains 30 capsules (which should last 1 month) and retails for $11,01. While there is no additional discounts or package offers available, this price is very cheap and may be overcompensating for a lack of efficacy.
Guarantee & Feedback
It is disappointing to note that there is no manufacturer's guarantee available for this product. This offers poor customer support that is not up to market standard. As the manufacturer is based in Singapore, customers would likely have to deal with issues with customs or additional fees if they were to return their product. Furthermore, there are absent customer reviews to vouch for the efficacy of this product. This does not instill us with much confidence in this product's customer satisfaction and effectiveness as a bad breath and body odor solution.
Our Conclusive Review About 21st Century Nomobo Capsules
This product is very affordable and contains ingredients that have been known to support the relief of bad breath and body odor by cleansing and detoxifying the digestive system. However, this product lacks popular ingredients, such as probiotics, that have been known to offer long-term prevention of body odor. In saying so, this product is likely not as effective as competing brands. Furthermore, this product is not supported by GMP certification, a manufacturer's guarantee, or customer reviews to act as testimony for product efficacy. In saying so, we do not recommend 21st Century Nomobo Capsules as the best body odor and bad breath solution available on the market.
Bringing you top reviews and product analysis - Consumer Advisors.