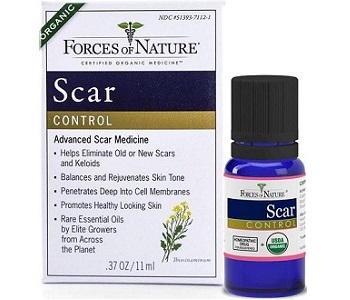 Quality of Ingredient

7.5

User Ratings (

0

Votes)

0
This Forces of Nature Scar Control Review examines the fact that the manufacturer claims that this product might assist to treat scars and keloids (overgrown collagen) and promote a healthy and balanced skin tone. As this formula penetrates deep into the skin, it will bring about significant results within one to three months. This formula may be used for old and new scars.
Ingredients
Active Ingredients:
Calendula Officinalis promotes healthy skin and healing. Silicea used as a remedy for painful scars and keloids. Thiosinaminum used for dissolving scar tissue.
Inactive Ingredients:
Helichrysum Oil
Rosa Moschata Oil
Rosmarinus Verbenone Oil
Lavandula Super Oil
Sesamum Indicum Oil
Helichrysum Oil relieves inflammation. Rosa Moschata Oil promotes skin rejuvenation. Rosmarinus Verbenone Oil is a natural astringent. Lavandula Super Oil calms the system. Sesamum Indicum Oil provides a deep penetrating action into the skin.
The above ingredients could not be effective for cell renewal and rejuvenation as it should contain clinically proven key ingredients such as aloe vera, vitamin E, allantoin and the oils of emu, safflower, medical grade silicone, onion bulb extract, sunflower and jojoba oils.
Dosage
The recommended directions for use is to rub the affected area with one to three drops, three times per day.
Possible Side Effects
The manufacturer gives a warning that some individuals might be sensitive to essential oils, the skin tolerability should be tested in advance. If accidental ingestion occurs, medical help or the Poison Control Center must be contacted.
Price
4 ml of Forces of Nature Scar Control at a price of $12.95 may be purchased online from the manufacturer's website.
Guarantee & Feedback
This product comes with a 365-day money back guarantee, if the consumer finds that they are not pleased with the product it may be returned with the receipt of purchase for a full refund, used and unused items may be returned.
The consumer reviews of this product are of a pleasant nature.
Our Conclusive Review About Forces of Nature Scar Control
Forces of Nature Scar Control comes with an excellent guarantee, is animal cruelty-free and it is organic. The ingredients might be effective to a certain extent, but could be much more effective in giving the consumer 100% assurance of optimal results, if clinically key ingredients were present in the formula. The clinically key ingredients are proven to be effective in all areas such as fading of scars, cell renewal, skin rejuvenation, wound healing, and reduce redness. The price is rather high for only 4 ml of the formula.
Bringing you top reviews and product analysis - Consumer Advisors.