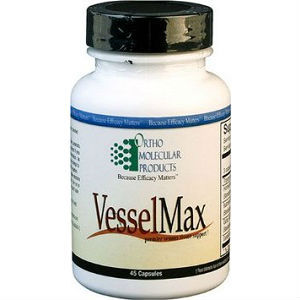 User Ratings (

0

Votes)

0
There are many different products marketed to treat varicose veins. Some of them are intended to treat the causes of varicose veins, which are the vein walls weakening with age, and others are for the varicose veins symptoms (larger and twisted veins, quite often accompanied with discomfort.) However, not all varicose vein products are created equal, and so it's important to know which products are good and which are not worth your time. This review is for VesselMax by Ortho Molecular Products. Let's take a closer look at this supplement to see if it's a good buy.
Ingredients
VesselMax by Ortho Molecular Products contains four active ingredients:
Troxerutin
Gotu Kola Extract
All of these ingredients are common in varicose vein treatments. Troxerutin is an extract from the Japanese Pagoda Flower, used to help strengthen veins, and horse chestnut, butcher's broom, and gotu kola are all used to improve circulation. VesselMax also contains some inactive ingredients:
Calcium Silicate
Magnesium Stearate
Microcrystalline Cellulose
Silicon Dioxide
These are inert fillers, meant to keep the capsule neat and in capsule form.
Dosage
Ortho Molecular Products suggests a dosage of three capsules of VesselMax a day, at different times. However, if your doctor tells you otherwise, follow their instructions.
Possible Side Effects
Ortho Molecular Products does not list any side effects associated with this product, but that doesn't mean you absolutely won't have a reaction. If you do react negatively, stop taking this product and talk to your doctor.
Ortho Molecular Products warns against taking this product if you are nursing or pregnant.
Price
The price of VesselMax is $41.10 for a 90-capsule bottle. This is definitely on the far end of expensive products that we've seen, especially considering this is one month's worth of product at the suggested dose.
Guarantee
Ortho Molecular Products offers a 30-day money-back guarantee for their product, provided that you contact them first and get the return cleared/authorized. Presumably, if you don't contact them and get approval for your return, they will not honor the return, which is a little concerning considering how expensive this product is in the first place.
Conclusion Of Our Ortho Molecular Products VesselMax Review
Ortho Molecular Products VesselMax seems like it is a good product, although there are many risks involved that might be too much for you. The ingredients are common to treatments for varicose veins, so they probably do work, but the price is more than twice some other supplements that exist. Some of those less expensive supplements even have the same ingredients, which makes you wonder why this one is so expensive. Additionally, Ortho Molecular Products' return policy seems difficult to maneuver. Maybe they don't want people to return their product. It could be a good product, but if the price and guarantee policy are too risky for you, you could try using another product.
Bringing you top reviews and product analysis - Consumer Advisors.