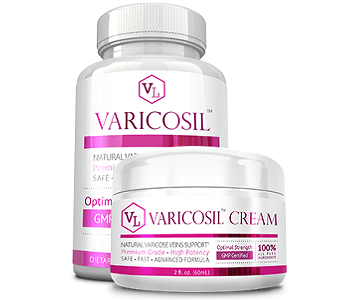 User Ratings (

0

Votes)

0
Introduction
This is going to be a review of the product, Varicosil. We have learned from the manufacturer this product is meant to alleviate and stop the cause of varicose veins commonly found on the legs through the promotion of improved circulation in an effective but safe manner. If you are interested in learning more about this product, please keep reading this review.
Ingredients
There are two versions of Varicosil, capsules and cream. Each contains potent and natural ingredients to stop the further development of varicose veins.
Here are the ingredients found in the capsule form:
The cream formula contains these ingredients
Water
Aloe Vera Gel
Ginger Root
Peppermint Essential Oil
Glycerin
Oat Straw Extract
Rutin
Clove Bud Oil
Witch Hazel Extract
Dosage
For the capsule form of Varicosil, you will need to take two capsules, three times daily before your meals. Ideally, you should take two capsules in the morning, two in the afternoon, and two in the evening. Women who are pregnant and those who are under the age of 18 should not take this product.
When using the Varicosil cream, you will need to apply the cream to the affected area the minimum of three to four times daily.
Possible Side Effects
The supplement form, while made with natural ingredients can have minimum side effects such as stomachaches or itching on the body. The cream form should not have any side effects. However, since everyone is different, you may want to speak with your healthcare physician before you use these products. If there is irritation or any adverse reaction, you should immediately discontinue use of Varicosil and contact your doctor for further instruction.
Price
You can select from 6 packages to purchase. However, if you decide to get the Starter Package, you will only get either the cream or capsules, not both. Ideally, you would be better off purchasing the 6 Bottle Supply, which would be your best value since you will receive three jars of the cream and three bottles of the capsules for the total price of $144 which would equate to $24.00 each.
Guarantee
Varicosil comes with a 60 day money back guarantee for people who ultimately decide this product did not product the results they desired. With almost two months to test this product, you have an adequate amount of time to determine if this will work for you. If you decide this was not the right product for you all you need to do is send back all bottles, both opened and unopened, back to the company within 60 days, you will get your full refund, no questions asked.
Conclusion Of Our Approved Science Varicosil Review
Varicosil is a natural way to treat and aid in the prevention of further development of varicose veins. For optimal results, it is suggested you use both the cream and supplement together. Backed by a 60 day money back guarantee, you can try this product risk free. In addition, we found many positive customer reviews of this product, supporting its claims.
Bringing you top reviews and product analysis - Consumer Advisors.