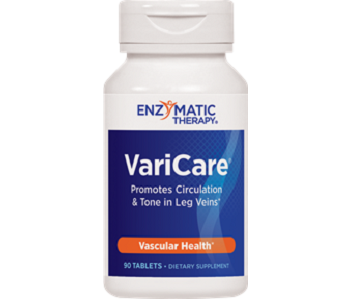 User Ratings (

0

Votes)

0
The following review is of a product called Enzymatic Therapy Varicare a product that promises to assist with healthy circulation in the legs, promote healthy tone in the veins and promote healthy circulation and tone in leg veins.
Ingredients
Main Ingredients:
Calcium
Horse Chestnut Extract
Gotu Kola Leaf Phytosome
Calcium is used for the treatment of osteoporosis, rickets, and osteomalacia, all forms of weak bones due to low bone density. Butcher's Broom works as an anti-inflammatory and improves circulatory conditions. It acts as an agent to tighten blood vessels and capillaries.
Horse Chestnut produces Aescin, which reduces swelling, inflammation and improves blood circulation. Gotu Kola Leaf Phytosome used for wound healing, trauma, and circulation problems (venous insufficiency) including varicose veins, and blood clots in the legs.
According to clinical data, have we found that there are key ingredients omitted from the ingredients in this product, which brings doubt to the effectiveness of the product.
Other Ingredients:
Cellulose
Magnesium stearate
Vegetable glycerin
Carnauba wax
Soy
Cellulose is a commonly used coloring agent, preservative or filler in the pharmaceutical industry. Magnesium stearate is a lubricant and poses as a contaminant which might affect the outcome of the product. Vegetable glycerin is used as an alcohol-free solvent when preparing certain herbal medications and tonics.primarily consists of fatty acid esters. Carnauba wax is used as a wax coating as wax enables easier swallowing. Soy is commonly used as a source of minerals, fiber, and protein.
Dosage
The recommended dose is to take two tablets twice daily. Before taking any medications s health care provider should be advised especially if the user is taking any other medication, is nursing or pregnant.
Price
A container of 90 capsules are available online from the manufacturer's website and third-party retailers at a price of $29.99
Guarantee
The manufacturer offers a 90-day money back guarantee if the product has been bought directly from the manufacturer's online store if the product is unopened and if the consumer has obtained a product return authorization number by calling the customer service department. Defective products may be returned for a credit or replacement within 30 days, expired products will not be considered for a credit or replacement. If the product has been bought through a third party retailer, the retailer has to be contacted to find out what their guarantee might be.
Enzymatic Therapy Varicare Review – Conclusion
We have reviewed Enzymatic Therapy Varicare and have found that the manufacturer offers quality assurance and ethical values which are very pleasing. Nevertheless have we also found that clinically proven key ingredients have been excluded from the ingredients, questioning the effectiveness of the supplement. The manufacturer's guarantee is only on unopened items and the return process is very complicated, and the fact that we could not find any good customer reviews leaves us wondering how effective this product is and what customer satisfaction is given.
Bringing you top reviews and product analysis - Consumer Advisors.