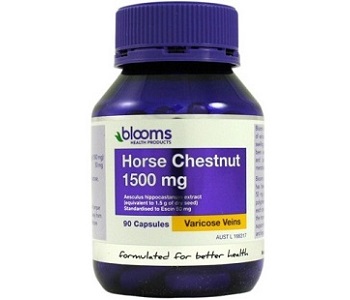 User Ratings (

0

Votes)

0
In this review of Blooms Horse Chestnut, we will assess the supplements ability to deliver effective relief from varicose veins. The manufacturer claims that this product promotes healthy circulation of the feet and legs as well as reduces the appearance of varicose veins. It is also argued to combat uncomfortable symptoms associated with this condition. The following information will determine the reliability of these claims so that you can make a wise consumer purchase.
Ingredients
The main ingredient in this product is Horse Chestnut Extract. Horse Chestnut Extract is a well-researched ingredient that is known to improve blood circulation and prevent swelling associated with varicose veins. The ingredient is found in many alternative supplements on the market because of these benefits. That said, many competing brands include additional essential ingredients. The lack of Diosmin and Hesperidin in Bloom's formula is a concern as these substances may improve the efficacy of the product. Furthermore, competing brands include a cream for optimal benefit. Another noted concern is that the manufacturer does not stipulate whether they adhere to cGMP guidelines. cGMP guidelines are used to quality control the production of supplements and support their efficacy. Brands that follow these guidelines may have superior formulas for best results and these should be considered prior to purchase.
Dosage
Adults should consume two (2) capsules daily. The manufacturer does not stipulate if this dosage should be taken with meals or not. Each 2-capsule serving supplies 3000mg of Horse Chestnut Extract. This is an extremely high dosage considering that the market standard is between 400 and 600mg per day. This high dosage could lead to unwanted side effects.
Possible Side Effects
As mentioned above, an exceptionally high dosage of Horse Chestnut Extract can lead to negative side effects. These may include nausea, drowsiness, or flushing of the skin. It is positive to note that the manufacturer provides warnings for these symptoms. We recommend discontinuing use of the product if these persist.
Price
The product can be purchased online from several retailers. Prices, discounts, and bulk-buy deals vary and, therefore, potential customers would need to spend additional time searching for the best value. From one retailer the product can be bought for $19,28 USD. This is a relatively affordable price and comes at a significant saving. That said, there are no bulk-buy purchasing options to promote long-term use. This could prove costly if the product is purchased frequently.
Guarantee & Feedback
The product efficacy is not supported by a manufacturer guarantee. Guarantees are entirely dependent on the retailer and policies may vary drastically. Many retailers accept refunds on unopened products but this does not allow customers to test efficacy before confirming their purchase. The fact that the manufacturer does not clearly outline a return policy is worrisome as it is indicative of their uncertainty pertaining to the product's effectiveness. Despite further research, we did not find substantial customer reviews to vouch for the product. This is very concerning.
Our Conclusive Review About Blooms Horse Chestnut
Blooms have manufactured a product with a significantly high dosage of its main ingredient, Horse Chestnut Extract. While this may prove beneficial, it could also lead to unwanted side effects. The fact that this product is not supported by a manufacturer guarantee raises questions regarding its quality. The product is not supported by substantial positive customer reviews and, therefore, we cannot gauge is guaranteed efficacy. In saying so, we do not recommend this supplement as an optimal remedy for varicose veins.
Bringing you top reviews and product analysis - Consumer Advisors.