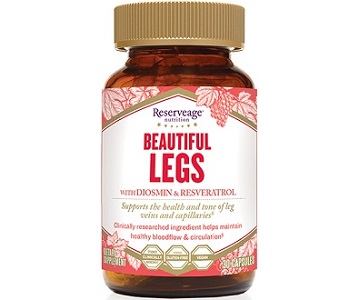 User Ratings (

0

Votes)

0
Today we review Beautiful Legs by Reserveage Nutrition. Beautiful legs can make you feel confident and when you feel confident, you can face whatever your day might throw at you with ease. Beautiful Legs claims to supply the nourishment your body needs to diminish the appearance of spider veins. This product also claims to promote healthy circulation and oxygenation which combats swelling and making your legs appear more defined. This enables your skin to look vibrant and healthy whilst sustaining vein structure. If this product interests you, please read our review below.
Ingredients
The ingredients in the product include Diosmin, Grape Seed Extract, Horse Chestnut, Hesperidin, Butcher's Broom and a Pro-Longevity Factors Proprietary Blend. Diosmin is a potent bioflavonoid that has anti-inflammatory, antioxidant and anti-cancer properties. It also has vascular protecting agents that improve the health and structure of your veins. Grape Seed Extract and Horse Chestnut help to better blood circulation and eliminate pain and swelling in your legs. Hesperidin and Butcher's Broom has antiviral properties and is also packed with antioxidants. These ingredients are also useful in relieving swollen lymph glands, thereby reducing pain in your legs. The Pro-Longevity Factors Proprietary Blend helps to keep your skin healthy by supplying minerals and needed vitamins with immune supporting properties.
Dosage
It is recommended that you take the capsules as a dietary supplement. Adults can take 1 capsule daily. This product can be consumed on an empty stomach or with food. We could not find any information stating if this product is suitable for vegans or vegetarians.
Reserveage Beautiful Legs Side Effects
This product should be kept out of reach of animals and children. Consult your doctor before using this product, especially if you are pregnant, nursing or you have a medical condition. If this product causes any discomfort, stop using it immediately.
Price
You can buy this product directly from the manufacturer's website. It will cost you $28.99 for 1 bottle. Every bottle contains 30 capsules. Shipping costs are not included in this price so you will have to pay $5.95 extra for shipping expenses and it will take about 5-7 days for your product to be delivered. We could not find any discount deals or samples on the manufacturer's website regarding this product.
Guarantee & Feedback
We could not find any guarantee on the manufacturer's website regarding this product. We suggest that you buy this product from another retailer that provides a guarantee if you don't want to take a chance with this product. More than 20% of the reviewers on Amazon gave this product a 2-star rating or lower. A lot of those reviewers stated that they noticed no improvement when it came to the appearance of spider veins on their legs.
Our Conclusive Review About Reserveage Nutrition Beautiful Legs
We like the ingredients used in this product and feel that they offer well-rounded health to the structure and integrity of veins. We also like that you can buy this product straight from the manufacturer's website, making it very accessible.  However, we are concerned about the fact that the manufacturers offer no guarantee when it comes to this product. We also feel that this product is not competitive price wise when compared to similar products on the market.
Bringing you top reviews and product analysis - Consumer Advisors.