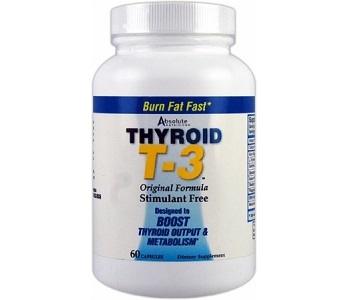 User Ratings (

0

Votes)

0
The following is a review is for the supplement called Thyroid T-3 Original Stimulant-Free Formula. This product is manufactured by Absolute Nutrition. The company claims that this product can boost the thyroid output (without stimulates) which will increase the metabolic rate thereby allowing the body to burn fat and lead to weight loss.
Ingredients
Two capsules provide:
Calcium phosphate (250 mg)
Gum guggul extract (guggulsterone 10%) (300 mg)
L-tyrosine (300 mg)
Garcinia cambogia (200 mg)
Dipotassium phosphate (150 mg)
Sodium phosphate (75 mg)
Disodium phosphate (75 mg)
Phosphatidylcholine (25 mg)
Other ingredients: microcrystalline cellulose, magnesium stearate, and gelatin. As this product contains gelatin it is unsuitable for vegans and vegetarians alike. This product is free from wheat, yeast, egg, soy, starch, gluten, lactose, sugar or artificial colorants. The mix of ingredients are there to support the healthy function of the thyroid. For instance the herbs guggulsterone and garcinia cambogia both help to regulate the metabolic rate better. By enhancing the function of the metabolic rate, you can loss more weight. In addition, the substance L-tyrosine is a synthetic version a non-essential amino acid, a naturally occurring tyrosine. However, what this element does is to regulate different hormones that are produced in the thyroid, pituitary glands and adrenal glands, but this substance is also involved in the production of melanin (the pigment of skin and hair). Dipotassium phosphate is a good source of both potassium and phosphorus. With the latter helping to repair cells. The substance phosphatidyl choline helps with enhancing memory, helping the liver and gut and to protect nerves and enhance memory.
Dosage
The manufacturer recommends to take four (4) capsules each day (two capsules in the morning and two in the afternoon). This product should be used between meals. Do not exceed recommended dosage.
Price
A bottle (180 capsules) is available online for the purchase price of $39.50. No discounts or package deals are presented by the manufacturer.
Guarantee
Our research were unable to locate a guarantee offer any kind from the manufacturer for this product. This is a worry, this as the supplement might not be as effective as the maker claims it to be.
Absolute Nutrition Thyroid T-3 Review – Conclusion
This product seems like a useful product to lose weight and to slim down during summer. This as this product comes with clear and easy to follow instructions. Having such dosage instructions means that a user can use this product in such a way for the potential for optimal results. In addition, this product is free of different allergic elements. On the other side, this product is not perfect. There are some concerns, such as the fact that no package deals with discounts are offered. This would have made this product more economical for the user of the long run. In addition, this product contains substances sourced from animals. Moreover, there is no guarantee from the manufacturer. This lack of such as a pledge makes this product risky for the buyer when they buy such a product.
Bringing you top reviews and product analysis - Consumer Advisors.