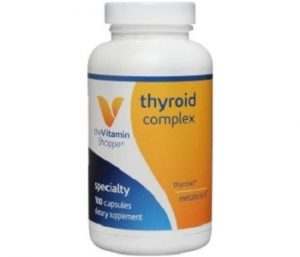 User Ratings (

0

Votes)

0
For many, the thyroid is not something that always works as it should. In fact, many people around the world struggle with a thyroid that itself is struggling to be as effective as it was meant to be. Fortunately for those that need to kick this gland into gear, the market is full of supplements that are meant to do nothing but get your metabolism and thyroid gland working at peak capacity. This review of Vitamin Shoppe Thyroid Complex will give you some insight into one such product, and provide you with all the information you need to make a decision as to whether this supplement is for you or not.
Ingredients
Thiamin – Also known as B1, this vitamin helps to turn food into fuel for your body.
Riboflavin – Helps to convert food into energy for your body to use.
Vitamin B6 – Helps convert food into energy for your body more effectively.
Vitamin B12 – Provides a natural energy boost.
Iodine – An essential ingredient for proper thyroid functionality.
Magnesium – Helps to prevent muscle spasms and aches and improves digestion.
Zinc – Boosts the immune system.
Selenium – Increases blood flow in the body.
Copper – Energy supplement.
Manganese – Supports bone and overall body metabolism.
Molybdenum – Helps break down amino acids for your body to make use of them more easily.
L-Tyrosine – Helps your body better absorb amino acids.
Dosage
There is a lot of wiggle room for the recommended dosage. You have to kind of feel it out and determine what is best for you and most effective. The manufacturer says that you can take 1-3 capsules per day, and to take a serving (1 capsule at a time) along with one of your main daily meals.
Price
In terms of cost, this supplement is on the lower end of the spectrum. You can buy a bottle with 100 capsules for $11. If you purchase this directly from the manufacturer, you can get a special offer of a second bottle at half off.
Guarantee & Feedback
There is a 100% satisfaction guarantee with any product that this manufacturer sells, meaning you can return it without the hassle for a refund. However, you can only do so within the first 30 days after purchase (not 30 days after delivery).
If you are like most people, you want to know what others who are already using this product have to say. Namely, you want to know if it works and if it is good value for your money. The bulk of reviews that we found online are very positive about both the effectiveness of the product and its value proposition.
Our Conclusive Review About Vitamin Shoppe Thyroid Complex
There are several products out there that claim to help boost the functionality of your thyroid gland. This particular product might very well be able to do this for you, and some distinct positives attributes include overly positive reviews online, a money-back guarantee (but see below).
The above isn't to say that there aren't reasons to avoid purchasing this product, including vague recommended usage directions and a weak refund policy that, for all intents and purposes, doesn't allow you to try the product risk-free.
Bringing you top reviews and product analysis - Consumer Advisors.