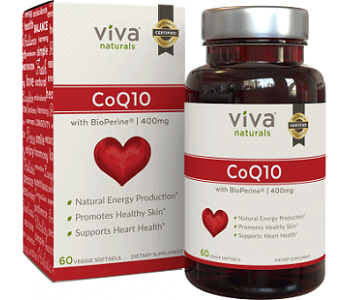 User Ratings (

0

Votes)

0
Viva Naturals CoQ10 is a coenzyme Q10 supplement that claims to promote energy and healthy skin while supporting heart health. CoQ10 supplements are popular as they replenish the body's levels of this beneficial enzyme, which has been known to boost overall vitality. In the following review, we shall assess all aspects of this product from ingredients to customer support; helping you make a wise purchase decision.
Ingredients
This product's key active ingredient is coenzyme Q10 which has been known to help energy production by supporting mitochondrial functioning, digesting food, as well as protecting the organs from oxidative damage. Other benefits include maintaining cardiovascular health, regulating blood sugar, and exercise recovery. Although naturally produced in the body, this substance tends to deplete with age and supplements are needed to ensure optimal health. This formula includes BioPerine, which is a patented substance that has been known to boost bioavailability (and thus efficacy) of the substances that it complements. This product is third-party tested, however, it was not produced in a GMP certified facility. Furthermore, there is no mention if this product is vegan-friendly or cruelty-free; suggesting that ethics and quality may not have been a priority during manufacture.
Dosage
This product comes in a variety of concentrations which include 100 mg, 200 mg, and 400 mg servings. The market standard concentration for efficacy is 250 mg per serving, so we shall focus on the closest product, although 50 mg short of the average, for the remainder of this review. To take the 200 mg softgels as a dietary supplement, take 1 capsule daily with food. The manufacturer claims that these softgels have been designed to be easy to swallow, which can be a relief for some customers.
Possible Side Effects
As with all supplements, it is recommended that you consult with your physician before use. This rule especially applies to perspective, pregnant, and breastfeeding mothers as well as children and those with a previously known medical condition. It is worth noting that this product contains a somewhat controversial ingredient – Carrageenan. This substance is usually used as a thickener and has been the focus of a few negative customer reviews. Of these reviews, customers complained of burning skin, painful joints, and inflammation. If skin sensitivity or joint issues have been a worry in the past, we recommend seeking a second opinion before taking these supplements.
Price
Viva Naturals CoQ10 can be bought directly from the manufacturer's website. 1 bottle contains 90 capsules (which would last customers 3 months) and retails for $19,99. There is a 10% discount available upon subscribing for recurring orders, however, we advise to stay clear of these arrangements as they can be difficult to cancel. The minuscule savings may not likely be worth the effort. Unfortunately, this product is currently out of stock at the time of writing this review. It is unclear as to when stock will become available.
Guarantee & Feedback
The manufacturer offers a substantial 90-day 100% money-back guarantee for their customers. While this may be perceived as confident, the policy is vague as to whether this offer is extended to opened and tested products too. There have been a few negative customer reviews that claim they experienced unwanted side effects such as an aching stomach, indigestion, skin irritations, and painfully inflamed joints to name a few.
Our Conclusive Review About Viva Naturals CoQ10
Viva Naturals CoQ10 has a formula that includes BioPerine to boost the absorption of the CoQ10, thus supporting a more effective reaction. However, many customer reviews complained of experiencing negative side effects ranging from skin disorders to painful joints to indigestion. This may be a result of concerning 'other' ingredients added to the formula. While the guarantee may be extensive, it is vague and unclear. Although the price may be affordable, it may indicate low-quality ingredients – which could be further substantiated by the lack of GMP certification. For these reasons and more, we do not recommend this product.
Bringing you top reviews and product analysis - Consumer Advisors.